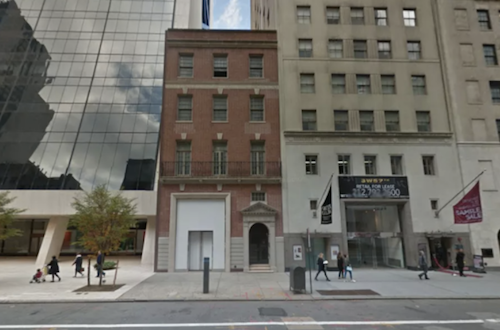 7 West 57th Street currently, via Google Maps
In 1974, developer Sheldon Solow built the glassy, dramatically sloping 50-story tower at 9 West 57th Street. In 2005, he picked up the building right next door at 7 West 57th Street, for $25,550,000 and until now, the 32-foot-wide property remained untouched after being converted into offices in the 1950's.
Today, Solow has plans to finally knock the building down to make room for a 19-story residential development.
Located in Midtown, rising 237 feet and holding only 16 apartments, the building will span 32,099 square feet of residential space, plus 4,100 square feet of retail on the first two floors. Plans have also included balconies attached to some of the units and/or roof top decks.
7 and 9 West 57th Street are not Solow's only holdings– he also owns the parcels at 10, 16, and 19 West 57th Street, as well as the property adjacent at 19 West 56th Street. Plans to reconstruct these buildings are also soon to come.