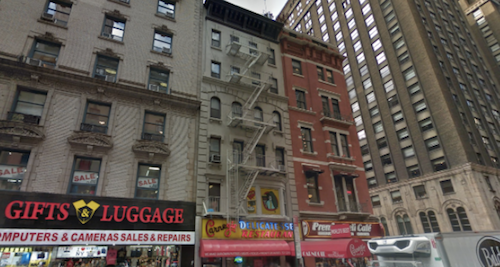 854 Seventh Avenue currently via Google Maps
Extell has scooped up yet another new development site, a former Carnegie Deli that closed just last year. Located in West Midtown at 854 Seventh Avenue, the building currently stands six stories tall, but that won't last long.
Although Extell doesn't own either of the buildings next door, they are hoping to bring another residential building to Midtown. It was revealed that following the closing of the deli, Extell's Gary Barnett made a deal with the deli owner for air rights, paying $9.1 million.
As of late, Extell has been behind some of the biggest developments in Manhattan– including One57 and Central Park Tower. Extell also recently purchased another site just a block away from this new purchase, at 54th street and Seventh avenue where the developers are hoping to build a 29-story residential building. Many are predicting Extell will purchase the buildings around the deli in order to begin planning the potential residential development.