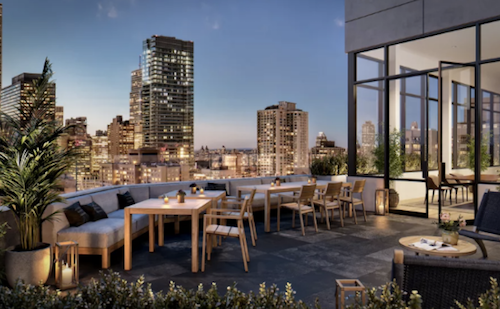 Rendering of terrace view courtesy Travis Mark and Binyan Studio
At 420 East 54th Street, you will find Harry Macklowe's River Tower which has remained relatively untouched since first being built in 1982. For the interior of the building, all that is about to change! Slate Property Group is partnering with GreenOak Real Estate to give the rental building a contemporary new look.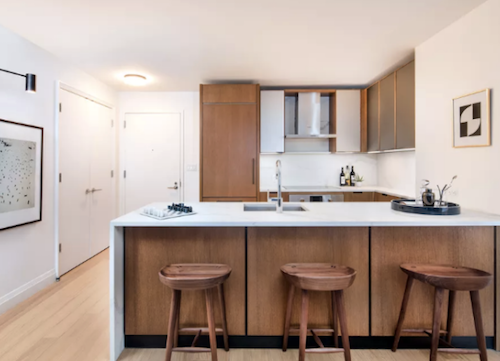 Rendering of kitchen courtesy Travis Mark and Binyan Studio
The Oriana will have new finishes, including wide-plank oak floors, sleek kitchens, and floor-to-ceiling windows. Plans also include reconfiguring apartments on the lower levels into studios and one-bedrooms to increase the number of apartments to 395.
There will also be a new floor of amenities that will hold a state-of-the-art fitness center, resident's lounge, and outdoor deck allowing beautiful views of the city.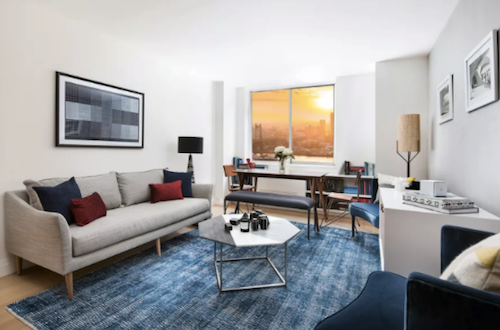 Rendering of living room courtesy Travis Mark and Binyan Studio
Due to all of these new additions, the rent is expecting to change–studios will rent for $2,815/month, a one-bedroom will go for $4,235/month, and the four-bedroom penthouse will ask for $33,000/month.
Renovations have already started on the 39-story tower and some of the new floors are expected to be open by March.