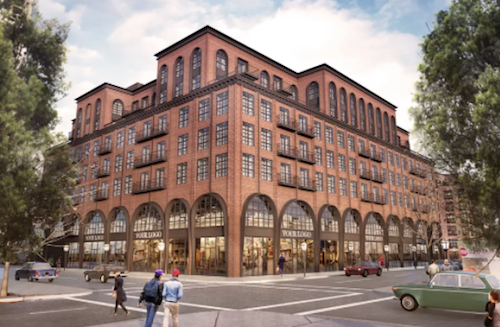 Rendering provided by CW Reality
Williamsburg is making room for another luxury rental residential building. Construction on this new luxury structure at the corner of Kent Avenue and North 3rd Street has already begun.
Developers CW Reality are behind this new Williamsburg development and it is not their first Brooklyn building. Along with 187 Kent Avenue, they have also erected the tower at 292 Bedford Avenue and are currently constructing another residential building at 119-123 Kent Avenue.
This seven-story tower will take the place of two low-rise warehouse buildings, and be bringing in a total of 96 apartments to the area with retail at the ground floor and basement, which will also include 170 private parking spaces for residents.
Not much has been revealed about the project except that it will have a state-of-the-art fitness center as well as private terraces on the second, sixth, and seventh floors, giving way to gorgeous views of the East River. Renderings of the building's exterior have been revealed, which portrays a classic red brick building with arched windows at the ground level and large windows throughout.
This building is perfectly placed in one of Brooklyn's most popular neighborhoods. 187 Kent Avenue is only a block away from the East River, several cafes, bars, shops, and subway lines, and is located across the street from the rumored soon-to-be Trader Joe's grocery store.
Construction is expected to be complete by 2019.