As new buildings continue to rise throughout city, finding that quaint and quiet neighborhood feel while still enjoying the convenience and efficiency of NYC can be difficult. Thanks to recent Long Island City addition The Forge, discovering this feeling has become a little easier.
This 38-floor rental is located at 44-28 Purves Street in a quiet cul-de-sac of Long Island City. Developer Brause Realty and Architect FXFOWLE designed this chic development within the friendly and open location.
From inside to outside, this rental radiates luxury. The Forge offers one- to two-bedroom homes along with a penthouse that sits at the top level. Each of the homes are crafted with white oak European floors, high ceilings, oversized windows that fill the open apartment with natural light, and built-in walk-in closets in each bedroom. In the kitchen, you can find custom wood cabinets, stainless steel appliances, backsplash, and a large quartz countertop island in the center of the kitchen. Bathrooms have sleek slate tile floors, a rain showerhead, a large soaking tub, and a custom quartz vanity paired with an oversized mirror.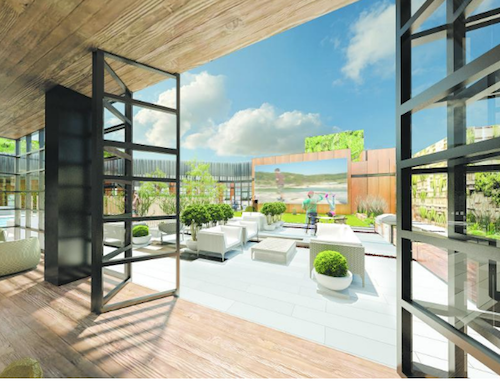 The Forge offers residents a long list of lavish amenities that make the interior just as desirable as the location. Here, residents have complete access to the extra storage space, private parking area, children's playroom, on-site laundry room, outdoor screening room, lounge room, fitness center, and sundeck terrace complete with a green garden, lounging chairs, and a barbecue grill. Most of these amenities are located above the building's ground floor which has a large area for the many outdoor features.
Long Island City sits just close enough to the busy boroughs, yet far away enough to enjoy some green space and a breath of fresh air. Not too far away from this residential are upscale restaurants and bars, eateries, shops, schools, parks, and more.
This building was completed in 2017 and homes are still available. One-bedrooms start at $3,300 per month, $5,000 per month for a two-bedroom and penthouse.