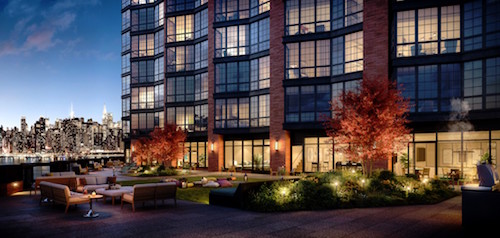 Rendering of One Blue Slip, from the New York Times and Wearevisuals and QuallsBenson
A gorgeous new luxury rental building has risen in Greenpoint, Brooklyn, an area that up until now has been known more for industrial structures than lavish residencies. One Blue Slip is a 30-story new rental development in the neighborhood that is part of Greenpoint Landing, a $1 billion mixed-use project that aims to develop 10 buildings and 5,500 homes in the area in the next decade.
This building compliments Greenpoint's history and its neighboring structures thanks to its red brick industrial-inspired facade and black metal window frames.
The spacious modern homes inside of this groundbreaking Greenpoint building feature floor-to-ceiling windows with stunning waterfront views, stainless steel appliances, and Bosch washers and dryers. They range from studios to three-bedroom homes.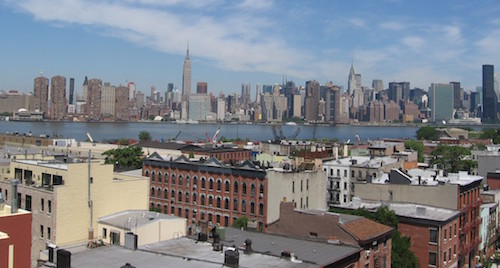 Greenpoint Waterfront
The lavish amenities at One Blue Slip include a fitness center, a co-working space, an elegant residents' lounge, a gaming room, a bar, and a waterfront-adjacent park, which will be part of the four acres of new parks Greenpoint Landing intends to bring to the area. Currently, studio apartments are available for $2,802 a month, 1-bedrooms from $3,225 a month, 2-bedrooms from $5,552 a month, and 3-bedrooms from $7,892 a month.