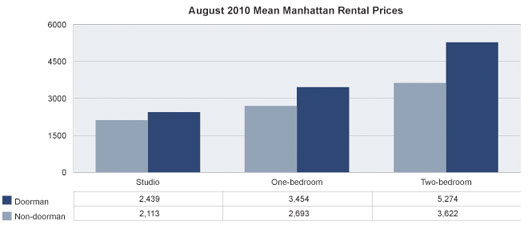 Deja vu? Maybe a little bit. But while regular readers of the Luxury Rentals Manhattan already know about the end of the renter's market for Manhattan rental listings -- in part because we wrote about it a few weeks ago -- it's impressive to watch the evidence of the Manhattan real estate market's recovery continue to pile up. Impressive, and maybe just a little bit depressing -- as we wrote earlier this month, the NYC rental market is at its most renter-friendly when it's at its weakest. A stronger rental market means fewer concessions and other goodies, and makes sought-after no-fee apartment listings that much tougher to find. But while the most recent report from The Real Estate Group New York offers a vivid example of just how far the Manhattan rental market has come since the dog days of 2009, it's not quite as bad for renters as it sounds. There are still good deals to be found for those searching for Manhattan rental apartments. It just makes the search that much tougher. So, now that the soothing is over, what does the report actually say?
It says this, actually: "Rental prices continue to make small gains, with prices up .37% vs. July 2010 and 4.64% over August 2009 numbers. While month-to-month increases have been moderate, the stability of the upward trend is a positive reflection of the overall health on the rental market." Vacancy rates continued to drop, down .18% since July. The numbers aren't terribly daunting on their own -- although it's worth noting that the vacancy rate on Manhattan rental apartments was already very low -- but the broader picture that they paint isn't the prettiest for renters. Luckily, as Curbed's Sara Polsky notes, there's some good news for renters amid all this good news for landlords.
Of course, the rental market in every 'hood doesn't bounce back at the same time, and TREGNY sends bargain-hunters and sharers to the Upper East Side, where non-doorman 2BR rents fell nearly 5 percent from July to August," Polsky writes. "Only Harlem saw more of a 2BR drop." And there you have it -- as we wrote earlier, both earlier in this post and earlier this month, there are still plenty of deals for those endeavoring to search Manhattan rental apartments. They're just a bit harder to find than they were during the beautiful/terrible times past.