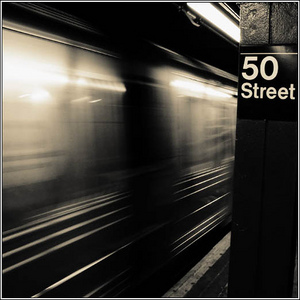 NYC dwellers have a dysfunctional relationship with the subway. We love it, of course -- even with fare hikes (and there are reportedly more on the way), it gets us where we need to go for a couple dollars, and keeps cars off the streets. And yet, it's hard not to hate it, sometimes (did we mention those upcoming fare hikes?) But the simple fact is that Manhattan real estate needs the subway. That's why we cheered the expansion of the 7 train into Clinton and West Chelsea, and why we're anxiously awaiting the opening of the Second Avenue subway. But with service cuts already in effect in the outer boroughs and many bus lines either reduced to banker's hours or disappeared entirely, New Yorkers are feeling more conflicted about the subway than ever. The Wall Street Journal, in a subscription-only article, recently charged subway service changes with depressing home sales in various neighborhoods in Queens and Brooklyn. Now, neither Queens nor Brooklyn nor apartment sales are our thing (although we do the NYC apartment sales thing, too), but the question still holds for people searching for rental apartments in Manhattan. The question being, how are subway changes changing the way we look for rental apartments in NYC?
For Manhattanites, who generally enjoy very good subway service -- at least in the sense that most Manhattan neighborhoods are at most a 10-minute walk from a subway stop of some sort -- the question is a lot less dramatic than it is on residents of, say, Kensington, who depend on the F train as their link to the rest of New York City. But as the New York Observer's Laura Kusisto points out, the impact of MTA service changes might be less dramatic than the Journal article made it seem. "The Journal story is pretty thin on data to back up what some frustrated residents and real estate brokers say," Kusisto writes. "As Sofia Song, vice-president of research at StreetEasy, notes, it will take more than a 20-minute walk to the subway to kill demand in most of these areas. 'I think the changes would need to be pretty drastic, because demand for housing is so high. If you make it more affordable and less convenient, there's still always going to be demand.'" And that's the thing with trend stories -- the trends they cover don't always, you know, exist.
Still, anyone who has ever rented an apartment in Manhattan or anywhere else knows that subway access is a big deal -- that's why we added the "Apartments Near" refined search option to Luxury Rentals Manhattan. But even if subway rates go up, and even if the quality of subway service goes down, the subway is going to remain a part of our lives in New York City. And given that living in New York City is the reason why apartments are so desirable -- it's the only location that matters in the classic Location, Location, Location paradigm -- it seems unlikely that subway service changes, good or ill, will have much to do with the way people search for, value or inhabit NYC rentals.