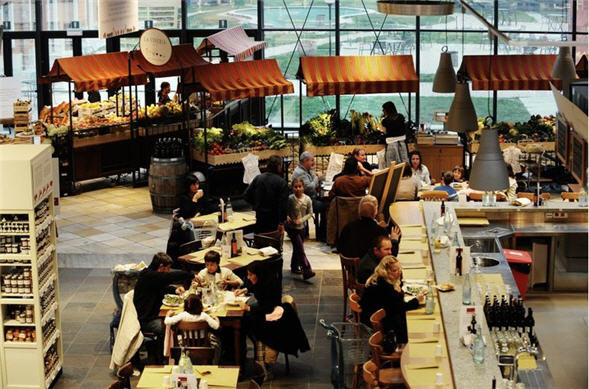 We're on the record here at the Luxury Rentals Manhattan blog with our feelings about new neighborhoods. But if you need a refresher, we're willing to entertain the possibility that neighborhoods such as The Linc (i.e. Hudson Yards) and NoMad could become hot new Manhattan residential 'hoods, but we're not necessarily on board with the goofy names. NoMad is the not-so-convincing but also not-so-bad name given to the rising neighborhood on the fringes of Murray Hill and Gramercy. We write about NoMad not because we're lovers of real estate conjuncto-neologisms -- although, of course, who isn't? -- but because it's actually a really interesting young neighborhood, and home to a couple of excellent rental listings, most notably The Biltmore Plaza and Madison Belvedere. More importantly, though, NoMad has a real buzz about it, thanks in large part to destination hangouts like Ace Hotel, a host of new luxury condos, and a bumper crop of hot new eateries. To say that Eataly, the blockbuster new Mario Batali-helmed Italian food emporium, has become one of NoMad's signature landmarks is a huge understatement. Eataly, in just a few short months in business, has helped make NoMad one of Manhattan's hottest food neighborhoods -- and boosted this sub-neighborhood's fortunes even higher. Especially among those of us who enjoy prosciutto.
Schnipper's Family Kitchen, a self-serve diner that has enjoyed a great deal of praise, and a new wine bar and charcuterie called Gustavo America, have recently opened in retail space left vacant for the last five years. Brokers have attributed these new restaurants to an ambient but convincing "Eataly effect." On a street that once yearned for tenants, the Eataly Italian Market Superstore became a reason to roll the dice -- the foodies were going to come, so why not? "People saw the crowds at Eataly," Ariel Schuster told Crain's Adrianne Pasquarelli. "It had a clear impact."
Can this sort of thing really make people want to rent an apartment a given Manhattan neighborhood? Taken on its own, that would obviously have to be some really excellent prosciutto. But taken in context, the impact that Eataly has had on the neighborhood's restaurant scene is nothing but good news for the neighborhood. While there probably is not yet a risotto invented that's delicious enough to make someone want to rent an apartment nearby, it could be argued that Batali would be the best bet to invent it. More to the point, though, in a Manhattan real estate market currently short on value rental opportunities, NoMad offers the added allure of a neighborhood that has not quite been "discovered" just yet -- but which is rapidly coming into its own as a destination 'hood. Clinton, for instance, was not considered much of a place to live even a decade ago. Today, Clinton rental listings are among the most popular both in Manhattan real estate and here at Luxury Rentals Manhattan. NoMad is some ways away from that -- you'll notice that you can't search for rental listings in NoMad just yet here at LRM, although you'll find a few if you browse condo listings in Gramercy Park and Murray Hill -- but that only makes it more enticing to those browsing Manhattan rental listings with bargains in mind. In a borough with few truly emerging neighborhoods, NoMad looks more and more like a good bet. At the very least, you already know where to eat.