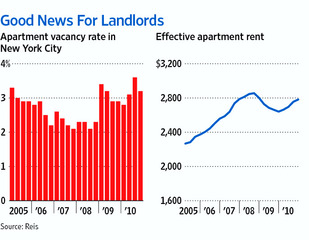 Just because most real estate prognosticators predicted the NYC rental market's strong fourth-quarter showing doesn't mean that things went quite as expected. At some level, yes, the market for Manhattan rental apartments tightened in the fourth quarter, with the vacancy rate dropping again and rents reaching their highest mark in 2010. But while the ongoing rally in the NYC rental market -- which we've been talking about for some time here at the LRM blog -- didn't exactly sneak up on anyone, there's a surprise buried in the fourth quarter stats that's even more dramatic than the (admittedly lovely and colorful) charts above would indicate.
"The average Manhattan rent in the fourth quarter continued to rebound from the trough early last year," The Real Deal's Amy Fennery reports. "Manhattan renters were paying, on average, $3,127 a month in the fourth quarter, up slightly from the third quarter, when the average rent was around $3,100. Rents are well above the first quarter, when the average was $2,926... Meanwhile, the Manhattan vacancy rate dropped to 1.21 percent in fourth-quarter 2010 from 1.79 percent during the same time period a year earlier." None of which, as we mentioned earlier, is exactly what renters want to hear, but none of which is exactly surprising, either.
The surprise? That rents managed to jump despite a huge surge in the number of new Manhattan rental listings on the market in 2010. With new construction rental projects that froze during the early years of the downturn beginning to thaw -- and, in some cases, actually open their doors -- in 2010, a bumper crop of new luxury rentals hit the market last year. "According to Reis, developers delivered 7,118 units last year," the Wall Street Journal reports. "That was way up from 1,377 the previous year and the largest volume since 1987." It's a testament to the NYC rental market's strength that so many willing renters were there to snap these listings up.
And with the market likely to tighten in 2011 -- when only 1,422 new rental listings are expected to hit the market -- rents look likely to go up even more dramatically as supply tightens and demand remains... well, its usual robust demand-for-Manhattan-luxury-rentals self. All of which lends a bit of urgency to our usual encouragement to browse our Manhattan rental listings, we'd say, but none of which, really, should come as too much of a surprise.