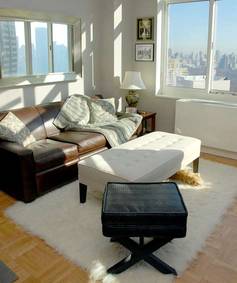 At a certain level, the question of which Manhattan neighborhood is best for singles is kind of a silly one. Silly because, New York being New York, just about every Manhattan neighborhood is a pretty good Manhattan neighborhood in which to be single. But, of course, there are degrees of goodness -- which means that singles hunting for their own NYC studios or one-bedroom apartments might do well to check out a new study from the New York Daily News that uses a simple formula to ascertain which Manhattan neighborhoods are best for solo NYC apartment-hunters. Besides, you know, all of them.
"Factors that played an important role in ranking these neighborhoods are the numbers of restaurants, bars, nightclubs, health clubs, culture, the population of young people in the area, median age and crime figures," Jason Sheftell explains in the Daily News. "Education, family-oriented factors and price were not heavy factors, although affordability was considered." While there are some viable quibbles with this -- there are presumably some singles for whom apartment price isn't a heavy factor, but it's hard to figure out what Manhattan neighborhood they live in (or which planet they come from) -- it's hard to argue with the overall formula. Which, incidentally, is why you can search by gyms and restaurants in LRM's NYC rental search. The study, which spanned the entire city, reveals that Manhattan is a uniquely good place for singles to live -- five of the top 10 neighborhoods for singles are in Manhattan, and three of the top five.
While neighborhoods such as Murray Hill have long been a magnet for young post-college types -- a topic we've written about at the Luxury Rentals Manhattan blog -- that 'hood doesn't crack the Daily News' top ten. One of Murray Hill's immediate neighbors has the top spot, though. That honor went to apartments in Flatiron/Gramercy, with East Village apartments checking in as third best-suited for singles and Financial District rental apartments ranking fifth. Clinton rental listings and Upper East Side apartments (rentals in Yorkville, specifically) landed at seventh and eighth, respectively. Of course, as we pointed out earlier -- and as any New Yorker could tell you -- there isn't really a bad neighborhood in Manhattan in which to be single. But if you're browsing Manhattan apartments for one, it's nice to know that some 'hoods are perhaps slightly more excellent than others.