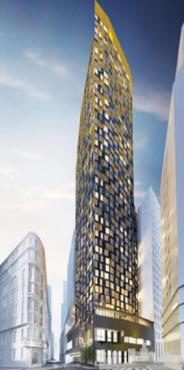 When is a luxury rental apartment listing not a luxury rental apartment listing? Well, if you insist on getting technical about a rhetorical question, the answer is "never." But, for a new crop of Manhattan luxury rental listings, the answer is somewhat more complicated. Some of Manhattan's most impressive new luxury rental listings are either partnered with new construction luxury condos -- blockbuster midtown luxury rental The Ashley, for example, shares an amenity space, a developer, and a number of other commonalities with The Aldyn, a carbon-copy condo with which it was co-developed -- or, in such posh instances as Chelsea's promising Eventi rentals located on the upper floors of luxury hotels. For William Beaver House, a new luxury rental listing in the Financial District, the story is even more convoluted -- developed as a condominium, William Beaver House is still selling luxury condominiums. It just happens to offer some of the most luxurious rental listings in the Financial District, as well. And there is, of course, Frank Gehry's luxury rental at 8 Spruce Street in the Financial District, which ranks among the most luxurious luxury rentals in Manhattan real estate history. The phrase "condo-quality finishes" has never seemed more literally apt, and less like a real estate buzzword. While this new proliferation of condo-rental combos can make for some confusion when browsing Manhattan rental listings, one effect is clear -- it certainly has deepened Manhattan's already deep pool of high-end rental listings.
The masses of New York City renters looking for the kind of amenities only ever found in one's own home can now rejoice," The New York Observer's Matt Chaban writes. "The real estate bubble has made their dreams come true....from the nearby 8 Spruce Street and its $3,000 Frank Gehry studios to the Upper West Side-redefining Corner and dozens of less premier buildings in Brooklyn and beyond, this truly is a golden age for the rental building in New York. This kind of money that only would have ever flowed in during a real estate boom, and only by-and-large for the condo set."
This seems like a pretty clear example of the way in which bad macro-scale real estate news winds up becoming good news for those in the market for Manhattan rentals. But while that has manifested in the past through landlord concessions, free months of rent and the like, the emergence of the condo-quality luxury rental -- and, in some cases, luxury rentals in what were once or still are condominiums -- has added some depth to the highest end of the market. And while rentals such as The Ashley and William Beaver House -- as well as Chaban's examples of 8 Spruce Street and The Corner -- are among the most expensive Manhattan rental listings, they're not so much so as to break with the larger fact that, given the price of Manhattan condos, it is still wiser to rent than to own in the NYC real estate market. If buying a Manhattan condominium is too expensive -- and even with a few years of flattish price increases in that market, buying a Manhattan condominium is far too expensive -- perhaps it might be a better idea just to rent one?