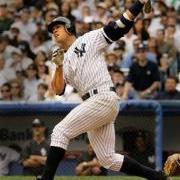 Regular readers of the Luxury Rentals Manhattan blog know that it's a familiar refrain, and just about anyone who follows Manhattan real estate knows that it happens to be true, but let's run this up the flagpole one last time -- in today's Manhattan real estate marketplace, it is inarguably wiser to rent than to buy. (Here's visual proof, if you need it) Of course, if you're already browsing the Manhattan rental listings at Luxury Rentals Manhattan, you're already hip to this fact. But if celebrity endorsements are more your speed, you're in luck. Again, it's nothing new -- we were on this when Kings of Leon singer Caleb Followill joined NYC apartment rental community in May of last year -- but Curbed reports that some of Manhattan's best known residents are opting to rent rather than buy these days. (That handsome and extravagantly well-compensated fellow at left happens to be one of them)
"If there's anyone in this city who doesn't have to check the Rent vs. Buy Index when making real estate decisions, it's a celebrity," Curbed's Sara Polsky writes. "Still, short-term employment, and perhaps a dash of commitment phobia, puts many a boldface name in the market for a pricey rental." The twist is that most of these new celebrity Manhattan renters are opting for rental apartments in what are generally condominiums. Thus Jim Carrey laying out $25,000 per month for a spot at 176 Perry Street or Robin Williams dropping $15,000 per month at The Rushmore or A-Rod renting at ultra-luxurious condominium 15 Central Park West. We have our share of high-end Manhattan rentals here at Luxury Rentals Manhattan, but this is a far higher end than most non-Carrey/Williams/Rodriguez sorts can inhabit.
That said, the trend of luxury rentals in luxury condos is one that seems to be on the rise in Manhattan real estate of late, with the ascent of combination condominium-rentals such as the Financial District's William Beaver House and 8 Spruce Street/New York By Gehry and condo-quality high-end rentals such as The Ashley and The Corner on the Upper West Side closing the gap between rentals and condos, both literally and figuratively. Few people browsing NYC rental listings, here or anywhere, are paid like A-Rod. But the lesson from these celebrity renters is one that anyone searching for a Manhattan apartment can adopt -- you don't need to rent in an exclusive condominium to live in a condo-quality Manhattan rental apartment.