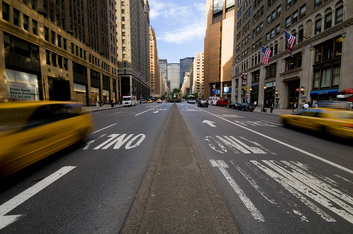 A Park Avenue apartment is a Park Avenue apartment, but when people brag, dote and obsess on the idea of a Park Avenue rental apartment, they're generally not talking about the comparatively modest stretch of Park Avenue south of Grand Central Station. Long considered a poor relative of the "real" Park Avenue of the Upper East Side, Park Avenue South has lately stepped out as an address worth attention in its own right -- both because apartments for rent on Park Avenue South offer solid value per square foot, and has lately come into its own as a place to live and socialize. Convenient, walkable and steadily breaking its associations with unromantic Midtown East, the rental listings of Park Avenue South are finally getting their due.
"The area is livelier than ever, and in recent years Park Avenue South in particular — the stretch between East 17th and East 32nd Streets — has experienced a wave of residential construction and, hence, lots of new foot traffic," Jake Mooney writes in the New York Times. "Beyond trendiness, the area's housing stock, much of it former office or commercial space, also has much to offer." Per Mooney, that means high ceilings, generous floor plans and the other luxuries associated with classic Manhattan luxury rentals -- all of which, now, are within walking distance of diverse new hotspots such as Mario Batali's Eataly (which we've discussed, hungrily, at the Luxury Rentals Manhattan blog) the burgeoning scenes at The Gansevoort Park Avenue and Ace Hotel. The emergence of child-care services like Appleseeds and the New York Kid's Club, suggest that the stretch of Gramercy/Flatiron/NoMad/Whatever-You-Want-To-Call-It may have a family friendly future, as well.
You can find all types of apartments for rent on Park Avenue South, from apartments in pre-war rental conversions to new construction luxury rentals. The architecture of the pre-war luxury rental conversion at 20 Park Avenue stands out for its elegance -- which is no surprise, given that it was designed by the esteemed Manhattan architect Emery Roth, back in 1939. Park 23, slightly lower down Park Avenue South, offers similarly striking pre-war rental apartments. The apartments for rent at The Madison Belvedere, a new construction luxury rental at 10 East 29th Street, offers a very contemporary, very luxurious counterpoint to its pre-war counterparts. Whether the rental listings of Park Avenue South qualify as Gramercy rental listings, Midtown East rental listings, or Murray Hill rental listings is a matter of semantics. That they qualify as some of the more promising luxury rental listings in Manhattan, though, is more or less beyond debate.
And what Park Avenue South lacks in uptown prestige, it more than makes up for in other ways -- most notably for foodies. The invincible Eataly is Eataly, the blockbuster Union Square Greenmarket, which now operates all day on Monday, Wednesday, Friday and Saturday, is a short walk and shorter subway ride away. And among the dozens of restaurants scattered around greater Park Avenue South are established favorites that transcend the idea of neighborhood favorites -- The Gramercy Tavern on East 20th Street, The original Shake Shack in Madison Square Park, BLT Prime on East 22nd Street, and Novita (which is just off Park Avenue South at 22nd Street) are the sort of restaurants that attract foodies from all over the city. Including from that other Park Avenue, uptown. You remember that one, right?