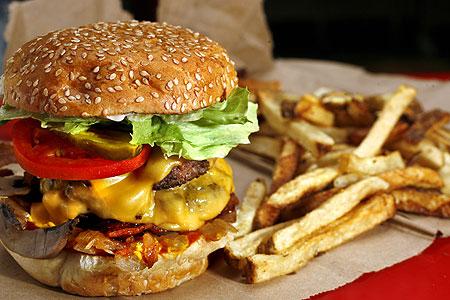 At Luxury Rentals Manhattan, we are not unaware that people browsing Manhattan rental apartment listings are often looking for different things. This is why we've built our search so that NYC apartment hunters can find apartments near subways and rental listings near parks and so on. It's our hope that a more focused and specific way to search Manhattan apartments will lead to a more satisfying and successful experience. That said, there is not currently a search function at LRM that enables you to find an apartment located near a delicious hamburger. For that, we use the LRM blog. No, seriously: we've covered Shake Shack pretty extensively in the past, and we're not going to stop doing that. We do it for you, readers. And also we do it because we're hungry, and because Shake Shack is delicious. And so it is with no small amount of delight that we inform Luxury Rentals Manhattan readers that rental listings in Battery Park City will very soon be rental listings near a delicious hamburger.
The good news, then: restauranteur Danny Meyer will be opening a pair of new outposts for his successful Blue Smoke barbecue franchise and a new Shake Shack on North End Avenue in Battery Park City. DNA Info's Julie Shapiro reports on how well the Battery Park City community took the news. "The Blue Smoke will be similar to the original one on East 27th Street, which Meyer said draws the most diverse crowd of any of his establishments. One new feature will be a bakeshop, selling cupcakes, pies and other desserts," Shapiro writes. "As for the new Shake Shack, no explanation was necessary — upon Meyer's announcement, one board member shouted 'Yes!' and several applauded." The new Meyer restaurants, which will be joined by an as-yet unknown high-end dining venture and open in May, will be part of the planned overhaul of Battery Park City's Embassy Suites, which will undergo a rebranding and reinvention as a new luxury hotel with a LEED Gold certification and a spiffy new green roof. Which is, of course, very cool, and which most Battery Park City residents will probably care less about than the fact that their apartments are suddenly near a Shake Shack and a Blue Smoke.
But good food news is not restricted to Battery Park City's residents. When we first wrote about The Linc -- the freshly branded up-and-coming neighborhood near the (um) Lincoln Tunnel -- it was just recently emerging from decades of being better known as a place to park one's car or go to a dodgy bar. Since then, though, the millions of dollars pouring into the neighborhood in the form of new real estate developments have continued to move The Linc up the list of Manhattan's hottest new 'hoods. That The Linc now has its own outpost of the very delicious DC-based burger emporium Five Guys Burgers and Fries is even more good news.
Yes, Five Guys is very excellent (although they do tend to give patrons more french fries than those patrons should probably eat in one sitting), but can it actually help move rental listings in the The Linc -- on our site, those are mostly filed under Clinton rental listings -- up the list of desirable NYC rentals? Well, we have seen it before. The so-called "Eataly effect" has helped NoMad in a few months become one of Manhattan's hottest new neighborhoods (another sub-neighborhood, here -- look for NoMad rental listings under Gramercy rental listings). And of course Shake Shack did nothing to harm the Upper East Side rental listings rising above and around it. Given the influx of new restaurants around the greater Linc area, it's just one more reason for renters at Emerald Green -- the green rental listing that's the crown jewel of The Linc's new apartment listings -- to cheer. Change never smelled, or tasted this good. Especially with sauteed onions, you should definitely get those.