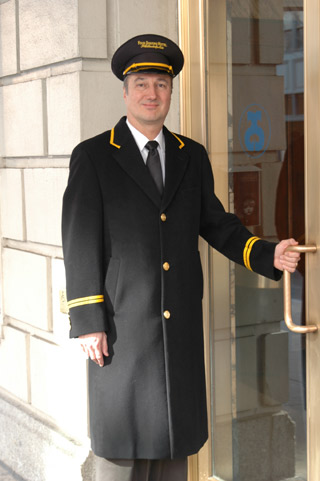 There is something to be said for the Manhattan doorman rental apartment, especially for the New Yorker coming home late at night, or returning from a Whole Foods or C-Town expedition loaded down with groceries. But while most Manhattan luxury rental listings are doorman rental listings -- it comes with the "luxury" part -- there's nothing that says that you need someone to open the door for you, even after an evening on the town or an afternoon at the supermarket. Chances are that if you've managed to find your way onto the internet, let alone to Luxury Rentals Manhattan, you're probably pretty accomplished in tasks such as opening and closing doors. Which is to say that, if you're browsing luxury rental listings in Soho or searching for a rental apartment on the Upper East Side, would it really matter to you that much whether the aformentioned luxury rental in Soho or rental apartment on the Upper East Side came with a doorman? Well, apparently a great many people do -- which means that doorman-free rental listings in those most desirable Manhattan neighborhoods are notably cheaper than their be-doorman'ed counterparts. Is this the sort of market efficiency a savvy apartment-hunter could exploit to his/her advantage?
In one of those real estate statistical blips that could drive you crazy if you paid too much attention to it, April turned out be a decent month for those looking for Manhattan rental apartments, as rents fell 0.6%, and a remarkably good month for those looking for Manhattan rental apartments without doormen. "While rents overall fell .6 percent in April, rents for non-doorman units on the Upper East Side fell 5.67 percent from a month ago, and non-doorman one-bedroom unit rents in Soho dropped 17 percent in the last six months, according to the Manhattan rental market report released today by the Real Estate Group of New York," The Real Deal reports. "Overall, the average rent in non-doorman Manhattan units fell 2.84 percent this month, while doorman unit rents rose .8 percent."
How can this be? Well, to a certain degree it's relative -- two-bedroom rental listings in Soho (with doormen) are the most expensive on the Manhattan rental marketplace, which means that non-doorman two-bedroom Soho rentals may seem that much more appealing by comparison. But for the most part, it just seems to be one of those quirks of Manhattan real estate -- one that's not necessarily guaranteed to be long-lived, and one which, honestly, doesn't totally make sense. But this is Manhattan real estate, after all. No one ever said it would make sense.