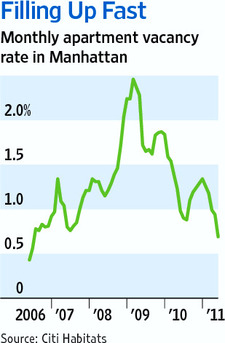 Summer has struck New York City in in all its sunny glory: ninety degree days, Shakespeare in the Park, and a humidity heavy enough to peel paint at fifty paces. And as those with a sharp eye on Manhattan real estate listings know, the temperature isn't the only aspect of New York City that is heating up. We here at Luxury Rentals Manhattan have been anticipating -- loudly and often -- the onset of summer sparking an upswing in the New York City rental market, resulting in a bump in rents and a drop in vacancies. As we've warned, renters have been paying fees and winning fewer concessions. But now a sign of the real estate market's growing robustness has appeared that hasn't been seen since the economic halcyon days: renter bidding wars.
The resurgence of bidding wars can be sourced to landlords offering limited available rentals in SoHo, the West Village, and other popular Manhattan neighborhoods, as well as fear of buying a Manhattan condominium thanks to the lingering sour taste of the economic recession. Vacancies city-wide are down to less than 1%, while vacancies in Gramercy, the West Village and Murray Hill are at .25%. The difficulty of getting a mortgage loan coupled with job anxiety means fewer Manhattan residents are willing to sign on the dotted line for property ownership -- turning would-be real estate buyers into Manhattan apartment renters.
With low vacancies thanks to this growing number of anxious New Yorkers, an influx of college graduates and new summer arrivals, multiple renters are competing for the same properties -- and thus, paying higher rents or fees as incentives to win their dream digs. The Wall Street Journal recounts the tale of a couple who, upon learning of five other prospective tenants, offered an extra $200 a month to seal the deal on an Upper East Side one-bedroom apartment. When you compare that scenario to the NYC real estate scene just two years ago, when landlords were paying brokers' fees and offering two months' free rent, it's tough to deny that the luxury rental market has flipped a complete one hundred and eighty degrees. Citi Habitats calculates a 50% drop in landlord concessions, from 60% of all rental deals in 2009 to just 8% in May 2011.
The Luxury Rentals Manhattan blog is prepared to keep a close watch on this brave new rental world. In the meantime, renters looking for landlord concessions might want to check out apartment listings in new buildings, where leasing units quickly is essential for landlords and owners, or in more affordable neighborhoods like the sleek Financial District and Midtown West. Though the blistering heat is only just beginning, renters can still survive this summer real estate market unscorched.