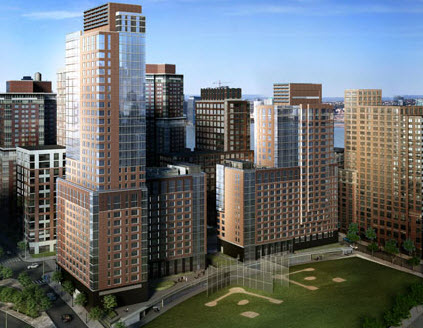 There's a lot of green in New York City…well New York City's real estate market, and we're not talking about money. Green building is a hot trend, and LEED certification is a surefire way of adding some appeal to what would otherwise be an ordinary rental. One of the more recent additions to Manhattan's green rental market is Liberty Green in the city's most sustainable neighborhood, Battery Park City. Yet Liberty Green is not alone; sustainability is rapidly-growing trend around the world, and New York City in particular.
Battery Park City has become a green mecca in Manhattan for a few reasons, aided by the fact that it is privately owned. All new property, both rentals and general real estate, must satisfy LEED requirements,
a policy dating back to 2000
, far before many other places followed suit. As a result, there is a vast array of green renting available in Battery Park City, with
The Verdesian
,
The Solaire
,
Tribeca Green
, and
Liberty Luxe
all certified at least to LEED Gold standards and open for new residents.
So what does LEED certification entail? In essence, LEED is a thorough examination of a building's location, energy use, construction methods and materials, and overall environmental impact. The
actual list
is quite long, covering scored sections and subsections on a point system; the sum determines whether the building is LEED Silver, Gold, or Platinum. The best part about being a renter in a green building? At
Luxury Rentals Manhattan
, we'd like to think that it's never having to actually worry about the details of energy or water use, but rather knowing that your address was designed with nature in mind. And while the prices may be a bit higher in LEED-certified buildings, the understanding that all of Manhattan is pretty inflated and that lower overall environmental impact is more cost-effective in the long run, so hopefully there's some peace of mind.
At a regional level, it seems as though Manhattan is racing towards creating more green rentals, with 132 LEED-certified projects in total, and that number is expected to grow. According to the United States Green Building Council, which runs the LEED certification system, the rate of LEED building, including rentals, has tripled since 2007, most likely in response to high demand for environmentally-friendly living. Landlords find green building to be a particularly good catch, reporting lower vacancy rates, lower energy costs due to reduced usage, and the value of being classified as "green" easily making up for higher initial investment.
Battery Park City, as green as it is, is still relatively small and will eventually run out of space. No one, not even us at Luxury Rentals Manhattan, know where the next green capital of Manhattan will be. For all we know, LEED certification will spread throughout New York City. Either way, sustainable renting is certainly "in," and at Battery Park City, well that's just luxury.