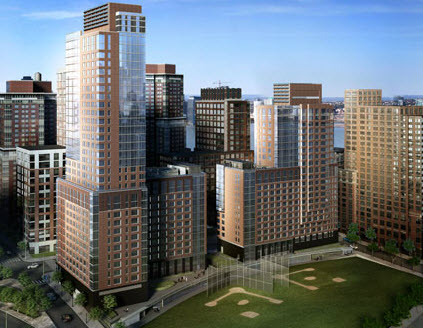 Battery Park City may be one of Manhattan's most modern neighborhoods. Created using fill from the World Trade Center site, Battery Park City's development is finally coming to a close with its last two rental buildings nearly completed and ready to go. Sister buildings, Liberty Luxe and Liberty Green add luxury rental apartments to Battery Park City's final open space, bringing to a close over 40 years of work on Manhattan's man-made land.
Milstein Properties is responsible for finishing these sister buildings, but the company is no stranger to Battery Park City; they have built four other buildings in the neighborhood as well. The first of the sister buildings, the Liberty Green, began taking tenants in May and one month ago was already half-full. Liberty Green is a 22-story red brick rental tower, offering 191 studio to three-bedroom apartments for rent. Its sister building, the Liberty Luxe will take residents in the fall for its 280 units spread out over 32 stories.
Originally, both the Liberty Green and Liberty Luxe were intended to be condominiums, but over time have become rental buildings instead reported the New York Times. The buildings blend well with their neighbors when it comes to their exterior; they also follow the same route as their neighbors when it comes to green touches. Liberty Green and Liberty Luxe have bamboo cabinets and floors, master switches that turn off all lights in the apartment at once, and they also collect and use rainwater.
A uniquely added feature that the two buildings share is a 52,000-square-foot community center, which will house a basketball court, fitness center, 25-yard pool, and auditorium. The complex will also be home to renewed baseball fields. These amenities will be accessible to residents of both the Liberty Green and the Liberty Luxe through a plaza connecting the two buildings. Milstein Properties' sister buildings bring to a close the development of Battery Park City whose population has grown steadily and popularity has skyrocketed, providing Manhattan with a neighborhood that has an almost suburban feel, separate from the craziness of typical Manhattan life, in an area with friendly neighbors, lots of park space, and beautiful views.