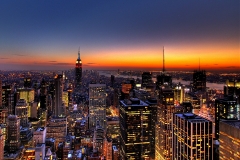 Luxury rental apartments in NYC, as opposed to luxury apartments for sale, continue to be the first choice of many searching throughout the Manhattan real estate market. A variety of factors have contributed to this, including but not limited to: increased difficulty in securing outside financing; the still present aftershock of the housing crisis; and just all around lower personal income and savings. Perhaps this phenomenon can explain the recent shortage of multi-bedroom luxury rental apartments in Manhattan, a trend that crosses all neighborhoods and areas.
According to newly compiled statistics, only 36 percent of the luxury rental apartments listed in the Manhattan real estate market contained two bedrooms or more. That does, of course, suggest that there are a substantial number of properties available, but it's important to remember that the real estate market, like any other industry, relies on supply and demand. Decreased interest in luxury real estate for sale has led to higher demand for luxury rentals. In turn, the supply of rental apartments, and more specifically, multi-bedroom rentals, has decreased, causing a rise in demand and giving property owners the ability to increase rents. This all boils down to a very simple concept: more people looking means not only higher rents but an increasingly limited amount of "product."
To be sure, two-bedroom or more luxury rental apartments are still available throughout Manhattan. But the price tags continue to rise, thus making the existing supply more difficult to attain for certain groups of people searching through the NYC real estate market. Waldorf Towers, for example, a majestic building in Midtown East, has two-bedrooms beginning at $26,500 that include polished hardwood floors, washer/dryers and walk-in closets. 1160 Fifth Avenue, in Manhattan's Upper East Side neighborhood has two-bedrooms beginning at $3,700 that come equipped with gourmet chef's kitchens. Tribeca and SoHo, currently NYC's most expensive neighborhoods, both have average rental prices at $7,782. Tribeca Tower is slightly below average as pertaining to price, with two-bedrooms beginning at $6,495; conversely, The Constable, an architectural gem in SoHo, is asking for $9,950 as the starting price for a two-bedroom rental. For those seeking a more inexpensive price tag, The Hub, located in East Harlem, may be the place to look - two bedrooms start at $3,595.
The truth is, those searching through the Manhattan luxury real estate market will continue to have a more difficult time finding multi-bedroom rental apartments. But it is crucial to remember that the NYC real estate market is constantly changing, and with the winter months coming, it is quite possible that there will be a drop in price for the average luxury multi-bedroom rental apartment, thus making your search a bit easier. Fear not! There is a luxury apartment out there that fits your needs, and is only waiting for you to find it.