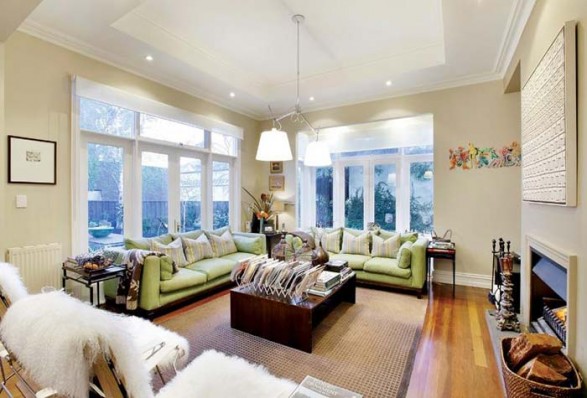 How can a chain reaction of uncertainty lead to stability? Well, the undercurrent of anxiety in Manhattan real estate over the state of the economy, both at home and abroad, has badly hurt sales of luxury condominiums, but the rental market has flourished in turn; rental vacancies in New York City recently dropped below 1%. This phenomena is one of the most salient features of the Manhattan real estate market today and has already been well documented elsewhere on luxuryrentalsmanhattan.com, but now there's a new twist to the story: expensive, fully-furnished luxury rentals are more popular than ever. Wealthy New Yorkers have revived the market for furnished rentals despite the fact that the monthly rent is usually double the cost of unfurnished luxury apartments. The causes of this Manhattan real estate trend are counterintuitive, but all of them bolster short-term investments, especially fully-furnished luxury rentals.
Examining the chain reaction of anxiety further will bring the picture into focus. Aside from buyer's increased uncertainty about whether or not they can afford to buy - and lender's uncertainty about whether or not they should lend them money for that purpose - employers are now uncertain about whether or not to hire their workers for the long-term. Many renters of fully-furnished apartments are in New York on temporary assignment because their firms are taking a wait-and-see approach to hiring, so they don't want to commit to an apartment without commitment from their employer. Furthermore, furnished apartments have relaxed standards for financial documentation and incomes, making renting faster and easier. Plus, nobody wants to buy furniture if they're going to leave in less than a year anyway. Demand for fully-furnished luxury rentals has been highest in renowned Manhattan neighborhoods like the Upper West Side, Upper East Side, and Tribeca.
The other half of this equation is that the people who bought condos, co-ops, and townhouses at their peak prices would lose money if they tried to sell them now, but rents are so high that many are opting to become one-off landlords in order to cover mortgage payments and even make a little money. This is particularly important for owners who are unemployed or underemployed and need to ride out a difficult time. 72% of the 1,890 listings for fully-furnished luxury rentals came from one-off landlords in the third quarter of this year. Compare that to the Manhattan real estate listings in the third quarter of 2008, when there was a mere 827 fully-furnished luxury rentals on the market and very few owners were renting out their homes.
This niche market for fully-furnished luxury apartments in Manhattan deserves attention because it provides a fairly accurate barometer of where the Manhattan real estate market is headed. If the health of the full-furnished luxury rental market is, in fact, directly proportional to the weakness of the sales market - which certainly seems to be the case right now - then it may be wise to keep an eye out for a decline in the fully-furnished rental listings.