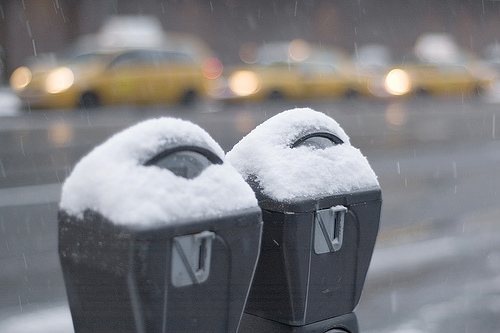 That wonderful layer of leaves piled on the sidewalks is so charming that it's easy to forget what comes next. We might not want to think about it, but after the leaves fall, so do renter's moving ambitions--it seems that nothing could possibly be worse than packing a U-Haul in the snow. But for NYC dwellers, there are some strong reasons to go searching during the winter months of November to February, when the Manhattan real-estate market slows down and is on the cusp of change. From couples to discretionary movers to higher-earning business professionals, now is the opportunity for Manhattanites to shop for NYC rentals.
According to a Manhattan rental market analysis, vacancy rates over the past year were highest in December, with 1.34% vacancy, and lowest in June, at .69%. Thanks to higher vacancy, there's wiggle room for negotiation. With the Manhattan real-estate market not far off from the all-time high (in May of 2007, rent for the average apartment in Manhattan averaged just under $3,400), NYC renters frustrated with no concessions, no vacancy, and rent hikes might have a little more luck finding great deals. And with renters particularly interested in Chelsea, SoHo and Greenwich Village, apartment hawks may snatch a better find in these popular neighborhoods when the rest of the competition is hibernating indoors.
But to find a sweet place, city renters must not only be willing to face the cold, they must also be flexible with their needs. For instance, a doorman may not be included in an otherwise great package. Neither might elevators. But if renters take advantage of the lull in Manhattan luxury real estate activity in the upcoming months, they may have the rare opportunity to do what New Yorkers do best: negotiate. Concessions like free rent for the first month or no broker's fee may actually be on the NYC market again, if you're savvy enough to make a move.