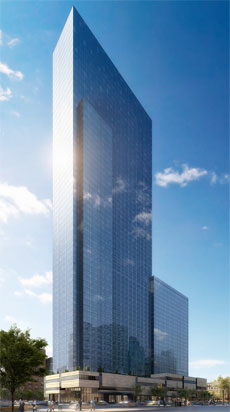 In an unexpected twist, Related Cos. elected to switch the luxury condos in MiMa, their 63-story glass high-rise on 42nd Street and 10th Avenue in Midtown West, to luxury rentals. Related planned for over 3 years to sell the 151 units as luxury condos, all located above the 50th floor of MiMa. The 663 luxury rentals on the lower stories were always been designated as rentals, but this sudden reversal to an all-rental building rather than a mixed sales and rentals building is more telling than it appears, though not in the way we might initially assume. This is not a case of desperate landlords panicking and using the luxury rental market as a safety net. Rather, this is a calculated decision based on the strengths and weaknesses of the rental and sales markets. If Related is making a smart decision, and it certainly appears that way, then MiMa's move to rental bodes well for the luxury rental market in Manhattan.
The fact that this decision is entirely voluntary may seem curious because MiMa is doing very well financially: 90% of their luxury rental units have been leased. Related is making a conscious choice to maximize the value of these luxury apartments by putting them on a very strong rental market. Conventional wisdom has long declared that selling is much more lucrative than renting, but this change indicates that landlords would rather not sell in a market where the average Manhattan condo and coop unit sells for 10% less than they did in 2008, the market peak. Related can afford to bide its time and allow the sales market to recover -- which it inevitably will -- by renting without suffering financially, and the anticipated rents reflect that; they range from $4,595 a month for smaller units to $20,000 a month for larger 3-bedrooms.
The larger issue underlying this development is financing. Buying a luxury apartment in Manhattan requires a loan for most buyers, and right now, for the most part, buyers aren't getting them. Credit is tight, and mortgages are very hard to obtain from banks that are skittish or bankrupt or both. Plus, Manhattanites have different attitudes than they used to -- renting isn't seen as a step down from buying anymore, and the more condo-quality luxury apartments like the ones at MiMa that become available for rent, the more that perception changes.
For renters, Related's decision are to their benefit, because the 151 2- and 3- bedroom luxury condos turned rentals in MiMa are worth the price. Even the relatively smaller 2-bedrooms range from 1,200 to 1,400 square feet and come with a separate lobby and entrance. MiMa will likely have success leasing out these properties, although questions remain as to the viability of the ultra-high end of the luxury rental market in Manhattan. Nonetheless, the rental market is peaking, and unexpected developments like this will only continue to make it stronger.