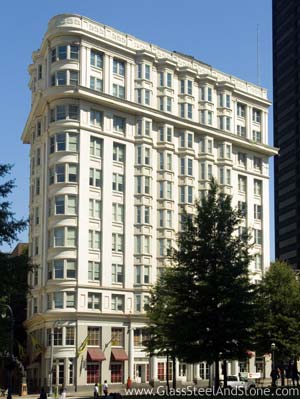 It seems like we're writing about new residential development projects in Manhattan every day, but commercial developments have become something of a lost art. Commercial buildings are less lucrative financially than residential buildings, where New York City's constantly growing population keeps them in high demand. Most developers don't want to risk leasing space to commercial industries, so today we are happy to report on a new project to build the area north of Madison Square Park into a commercial district called NoMad.
With Chelsea and the Flatiron District to the West and South, respectively, the area surrounding Madison Park is one of the most developed places in Manhattan, filled to the brim with high-end luxury condos for sale and apartments for rent. But the NoMad area itself remains relatively empty. It was a major area for bootlegged merchandise until recently, when developers saw the potential in turning it into an upscale commercial area. To encourage development, a couple savvy property owners lowered the rent for commercial buildings. Now they're watching eagerly as potential culture-makers start nibbling at the bait. The new Museum of Mathematics, which opens next year, just recently leased space on 26th Street, and other projects are falling in line.
For residents of 777 Sixth Avenue, the Chelsea Landmark, the Continental, and other luxury rental apartments in nearby neighborhoods, this could provide an entirely new way to spend the weekend. The NoMad area is already home to several famous restaurants, like the Hog Pit, San Rocco, and the infamous Italian marketplace Eataly. Other, more esoteric cultural hotspots also call the NoMad area home. The People's Improv Theater, which is owned by former Saturday Night Live writer Ali Farahnakian, is on 24th Street, and Jay-Z's 40/40 Club is on 25th. If NoMad saw an influx of new high-end shops and restaurants, it could turn the area above Madison Square Park into a thriving part of New York City's culture.