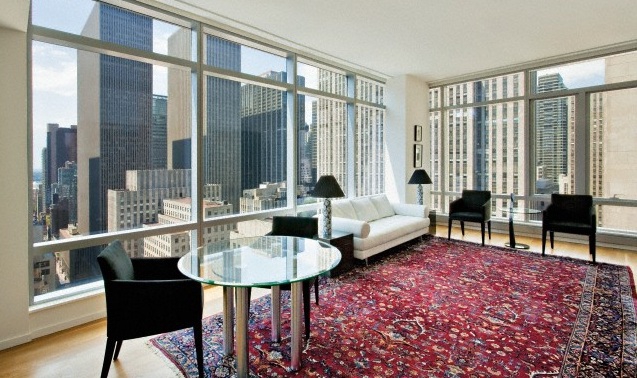 The MNS rental market report for December 2012 is out, and with it come the kinds of numbers we expect to see in the winter months. You may remember from last month that prices hadn't fallen in November nearly as far as real estate insiders generally expect them to. Part of the reason for this was extremely low inventory, which MNS, in addition to several key real estate industry forecasters, predicts will not change in 2012. But movement did slow down in December as people hunkered in for the holidays, and the numbers show a slight decline. Throughout Manhattan, average prices for all luxury apartments for rent went down 1% from November rates. Certain Manhattan neighborhoods saw relatively large declines, while others showed very little. Still more neighborhoods saw increases in price, but by lower average numbers than the declines were. That said, prices in December 2011 are on average 8.4% higher than they were in December 2010, suggesting that the rental market overall is stronger than it was a year ago.
Like last month, Tribeca is the most expensive area for all non-doorman buildings, and Harlem is the least. Where doorman buildings are concerned, Harlem still claims its title as the least expensive neighborhood. Tribeca doorman studios are the most expensive in Manhattan, but doorman one- and two-bedroom buildings are most expensive in Soho. Doorman studios showed a 1% drop from their November numbers, moving from $2,679 to $2,652, and non-doorman studios showed a 2.17% drop. Two-bedrooms showed the smallest decrease percentagewise, with non-doorman homes dropping by $54, from $4,267 to $4,213, and doorman homes falling even less, from $5,838 to $5,816.
Getting into specific neighborhoods, Non-doorman studios in Murray Hill showed the biggest drop, falling $185, or 8.8%. Non-doorman one-bedrooms in Midtown West dropped 5.5%, or $147. And Non-doorman two-bedrooms in Harlem rose 3.3%, from $2,176 to $2,248. Doorman buildings that showed the biggest drops were in Soho, where studios dropped 7.7%, $245. Doorman one-bedrooms fell the hardest in Harlem, going from $2,127 to $2022, a 4.9% decrease. Harlem also saw the largest decrease in doorman 2-bedrooms, where prices fell 3.1%, or $107. In the Financial District, where inventory is disproportionately high, prices rose 1.7%, and landlords are offering concessions such as one month free and owner paid broker commissions to encourage movement.
These numbers don't suggest anything we don't already know. Winter numbers are expected to go down, and the fact that they've gone down less than normal is a sign that the market is doing well. What is particularly interesting is how much higher prices are now than they were a year ago. In nearly every neighborhood prices are higher than they were in December 2010. A notable exception is non-doorman studios in Chelsea, which took a huge drop in October and have yet to fully recover. Otherwise, Manhattan neighborhoods saw an almost universal increase in average prices.
But for you, the savvy renter, there are things to do to avoid high rent increases as you prepare to renew your lease, or are moving to Manhattan for the first time. For one thing, landlords in the Financial District are offering relatively low prices and incentives, making it a good time to move there. Those living in Soho will be spared major rent increases. Average rent is up only 2% from last year. And non-doorman studios in Murray Hill are not only cheaper than they were in 2010, but they are down significantly from their November numbers. If a non-doorman studio appeals to you, Murray Hill might be the most economically sensible option in Manhattan.