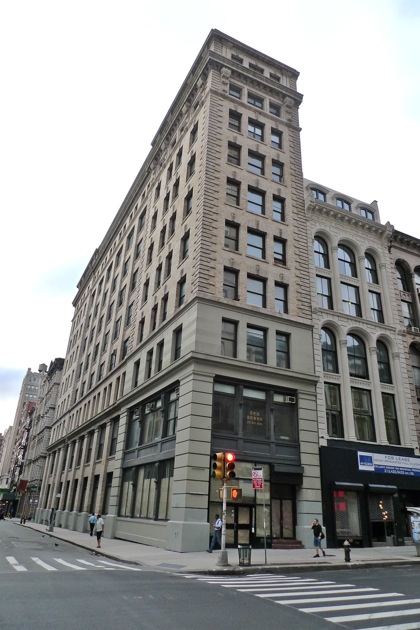 We've written that rental inventory will continue to be scarce in 2012, but we can report that there are two new buildings full of luxury apartments for rent currently scheduled to open this year. The first is the Windermere, located in the Upper West Side at 666 West End Avenue. It's scheduled to open sometime this month. The other is 396 Broadway, a pre-war in Tribeca that should be finished by the fall. We took a look at these two buildings, to see how the Manhattan luxury rentals will look to the inhabitants who will eventually live in them.
The Windermere is a 23-story pre-war building on 92nd Street, originally constructed in 1927. It boasts 374 luxury units, and a limestone and brick façade. The building was purchased by Stellar Management near the end of 2010 for $68 million, and the company has spent an additional $10 million renovating the space and adding amenities to it. The Windermere now includes wireless internet, a gym, a lounge, and a roof deck.
396 Broadway in Tribeca is another luxury pre-war, though this one was originally built in 1899. It is ten stories high and holds 52 units. The façade is steel-frame brick with limestone and terracotta detailing, and it runs 175 feet along Walker Street. The architect in charge of the building, Gene Kaufman, has proposed a redesign, that will place additional construction on the rooftop. Real estate insiders the Chetrit family own the building, and plan on also including a doorman, valet, and lobby fridges. Last we heard Kaufman was still squabbling with the Community Board, but the building should still be ready to go by this fall.
The number of new rental buildings scheduled for 2012 openings pales in comparison to the number of new condo buildings, of which there are 11. This suggests that the rental inventory will likely not increase this year -- at least not significantly. But the price and quality of the two new rental buildings suggests also that any new apartments for rent that may hit the market in 2012 will focus on raising the bar for ultra-luxury in New York City. For renters looking for a new place to live, we recommend checking both buildings out.