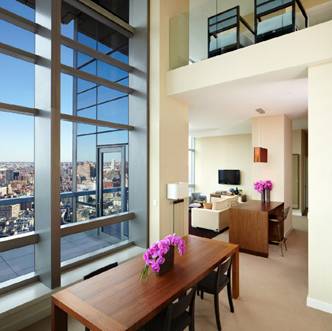 The luxury rental market boom in Manhattan is just getting started. A dearth of new construction for Manhattan apartment buildings, severe lack of inventory, and high demand for luxury rentals in Manhattan virtually assures that prices will not only stay high or get higher on the top end of the market, they will likely rise for the lower end as well. Rents are soaring right now all around the borough, especially south of 59th Street. Desirable Manhattan neighborhoods like the West Village and Chelsea are setting records for high rents, but rents for formerly inexpensive apartments in Midtown West and the Financial District are also reaching new heights. Studios in Chelsea average $2,332 a month, while one-bedrooms in the West Village average $3,278 a month. Furthermore, newer buildings like 8 Spruce Street have raised the bar for luxury rentals in Manhattan. 8 Spruce in particular has changed the perception that renting is somehow less respectable than buying by offering luxury apartments that match the quality of condos. All over the city, landlords are responding by renovating their rental apartments to meet these new standards, so even though you may pay more for rent than you'd like to, you'll get more in return.
First the downside: Getting into one of these high-quality rentals is harder than ever, so if you're planning to rent in Manhattan this year, get in line. Waiting lists dozens of names long are now the norm on the higher end of the luxury market, which is a large part of why landlords recognize that they can raise rents and still find plenty of renters (which is exactly what they're doing). Demand is so high that multiple applications, a phenomena not seen since the boom days of 2007 and early 2008, are now back. In some cases, landlords are reporting that potential renters are taking the initiative and even bidding up rents without even being prompted to do so. Unsurprisingly, rents are thriving. For instance, even 5th floor walk-ups in the West Village are now rather expensive. Roberta Axelrod, who works for Time Equities, managers of around 500 rentals in downtown Manhattan, told the New York Times that this increased demand led to a 515-square-foot two-bedroom apartment on the 5th floor of a walk-up just rented for $3,195 a month.
The upside is considerable though, because landlords are capitalizing on this increased demand by opting to renovate older apartments and improve newer apartments to meet the higher standards of the rental market, standards that were single-handedly raised by 8 Spruce Street. It also doesn't hurt that they know that they won't have any problems renting more expensive luxury apartments. The big trend right now is to renovate as fast as possible, especially to remove parquet floors, which are now seen as dated and undesirable; many landlords are ripping them out and replacing them with hardwood flooring. Plus, washers and dryers are being added to meet the higher competition from top-of-the-line luxury apartments. Rose Associates, managers of about 26,000 luxury rentals in Manhattan, are now routinely spending up to $40,000 per apartment to do renovations because they know full well that, in a landlords' market like this one, those investments will yield high returns. At 8 Spruce Street, the tallest residential building in Manhattan, penthouses on the top 16-stories of this 76-story tower are now going for $45,000 to $60,000 a month.
Their confidence in the Manhattan luxury rental market is justified. The effects of the 2008 downturn are just beginning to manifest themselves; all the new construction that was derailed by that crisis would have opened this year. With so few new buildings due to open, landlords know that this lack of inventory will more or less guarantee that demand will far exceed supply. In other words, barring another drastic economic collapse, rents in Manhattan will continue to soar. And even if Europe falls apart - which looks unlikely considering that the Greek parliament recently voted through the austerity measure demanded by the European Union - rents in Manhattan will stay in high demand.
The only possible factor that could affect the strength of Manhattan rentals is if mortgage lending loosens for potential buyers, a development which would alleviate demand by allowing would-be-buyers in Manhattan to actually buy, thus removing them from the picture. Nonetheless, all signs point to higher rents. So if you want to rent in Manhattan, get your checkbook ready, and make sure to take it with you.