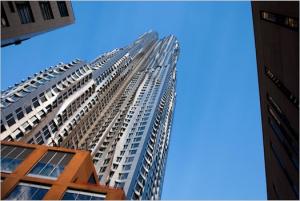 Within the next six to eight weeks, some of Manhattan's most expensive apartment rentals will become available, as the Financial District penthouses of New York by Gehry are to be listed on the market. The three units are expected to cost renters $40,000-60,000 a month, a yearly price point that can be equated to a down payment on any luxury condominium in New York City.
Described as the tallest residential building in the Western Hemisphere, New York by Gehry, located at 8 Spruce Street, towers 850 feet above Lower Manhattan. Views from the building's top floors encompass all three bridges, and go on to look out past Brooklyn all the way to the Atlantic Ocean. It addition to its height, the building stands out with its iconic, undulating façade, and a newly constructed elementary school that comprises its first five floors.
Currently, low-lying lofts in neighborhoods like Greenwich Village and Tribeca stream in the most residential traffic, and rental towers are few and far between. The only structures similar to New York by Gehry are Silver Towers, a pair of Hell's Kitchen high-rises which each stand 60 stories tall, making them the next tallest residential buildings in Manhattan.
Initially, the top floors of New York by Gehry were going to be put up for sale, but with scarce rental inventory throughout Manhattan, project owners decided to make the three units rentals. With such a high monthly cost, the apartments are ideal for those that can afford to buy property, but choose to rent instead. 50% of the tenants above the 52nd floor at New York by Gehry earn more than $500,000 a year, and 20% make at least seven figures. This category of renters can be attributed to the city's influx of wealthy international and transient individuals that tend to be single, and appreciate the amenities and common areas of rental buildings. Although there is a current preference for ultra-luxury rentals within the housing market, condos are steadily making a comeback; it will be interesting to see how these units perform once they are officially listed.