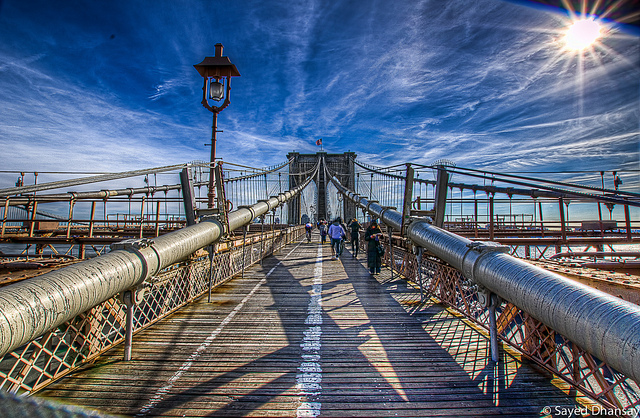 The saga of 254 Front Street may finally reach a happy ending. After a developer purchased the property in 2004 for a mere $4 million, numerous setbacks and ownership disputes threatened the project's completion. This may have been in part because the value of 254 Front Street was lessened by its direct proximity to the Brooklyn Bridge; traditional wisdom held that it's difficult to 'sell' the bridge, which is why the old Jeremy's Ale House Building was so cheap. In the eight years that have elapsed since then, this 40-unit, 8-story building switched from a condo-conversion to a luxury rental, and now this pre-war rental conversion is finally about to complete construction and hit the market.
254 Front Street is part of the South Street Seaport Historic District, and architect Morris Adjmi preserved the industrial feel of traditional warehouses in the area. Adjmi decided to keep the windows small in the apartments at 254 Front Street in order to harmonize with the small windowed buildings in the area, and he elected to build a metal and glass canopy supported by metal rods in an homage to the loading bays of the South Street Seaport's historic industrial buildings. The building still looks contemporary though; Adjmi built a façade with horizontal zinc panels and mahogany windows plus a separate red brick façade with aluminum windows.
Most of the apartments at 254 Front Street are one-bedrooms with private balconies that will be listed at upwards of $3,000 a month. If that seems unusual, it shouldn't: according to the listings on streeteasy.com, the median price for a 1-bedroom in the financial district is $3,600. This trendy neighborhood is now home to newly constructed luxury rentals, hybrid condo/rentals, and converted office headquarters. 254 Front Street is also located close to public schools and multiple Manhattan subway lines, making it much less remote than it may seem.
Rental apartments in FiDi are now some of the most highly coveted in Manhattan – something that certainly wasn't true back in 2004 – and Magnum Real Estate Group are capitalizing on this appeal by listing a 5-bedroom penthouse in 254 Front Street at $20,000 a month. Younger families looking to rent large Manhattan apartments downtown have taken to the Financial District, and 254 Front Street caters to this market by offering large living spaces that are rare in the area. Marc Ravner, co-principle of Magnum Real Estate Group, told the Real Deal that he is targeting families in need of large spaces who are forsaking the large "classic 6" luxury apartments found in the Upper West Side and Upper East Side of Manhattan for more loft-like spaces downtown. We'll see if he succeeds.