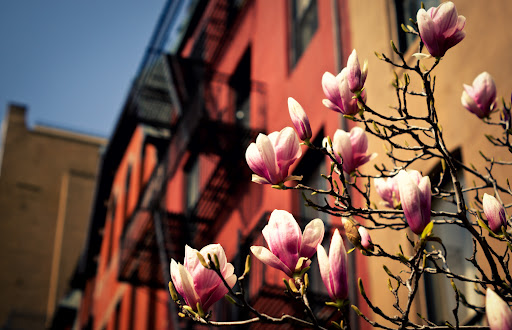 When is a plateau not a plateau? Well, when a market dips at the same time every year for years on end, and then all of sudden it doesn't, that even keel isn't mundane at all. Quite the opposite: the absence of winter's usual decline in rental market activity for luxury rentals in Manhattan couldn't be more noteworthy. A recent market report showed that rents for Manhattan apartments have been essentially unchanged since October, which means that the usual winter season never materialized. We skipped right over it. Looking back to this time last year, rents are up across the board, especially for two-bedrooms, which is the most distinctive shift. Whereas rent increases in studios apartments in Manhattan led the way in March 2010 and 2011, large apartments are now taking the lead.
The Manhattan rental report issued by the brokerage firm MNS shows a 6% increase in average Manhattan rents from March of 2011 to March of 2012. The major difference between this year and last is that demand for two-bedroom apartments in Manhattan has risen while demand for studio apartments has declined. Whereas from 2010 to 2011 the average rent for a Manhattan studio apartment rose 11% while the average rent for a two-bedroom rose 5%, the year the numbers flipped: rents rose 9% for two-bedrooms and only 3% for studios. This may have a lot to do with the fact that high rents and low mortgage rates have pushed many Manhattan apartment renters back into the Manhattan sales market.
The biggest monthly change came in inventory, not prices. Inventory rose by 4.3% from February largely because of staggered releases of newer developments and conversions. The decision of many homeowners to cash-in on the hot rental market by renting out their condos also contributed to this increase. As far as prices go, there's really not much to report. The average rent in Manhattan rose by 0.1% from February to March, and the average rents for studios, one-bedroom apartments, and two-bedroom apartments showed similar results: rents rose or declined by less than 1% for all three apartment types. Again, in the context of a seasonal industry where rents always decline in winter, these nominal changes should be regarded as increases rather than plateaus, especially because they're setting the stage for a torrid spring and summer.
On a neighborhood basis there were more significant changes though: rents for non-doorman studios in the East Village declined by 6.5% since February, and rents for non-doorman two-bedrooms in Harlem declined by 5.2%. The largest increase wasn't all that drastic either: rents for non-doorman one-bedrooms on Manhattan's Upper West Side rose by 4.9%. Predictably, this latest report that apartment renters in Manhattan can still expect Tribeca to most expensive neighborhood and Harlem to be the least expensive for rentals. Speaking of Harlem, the gap between rents for non-doorman and doorman studios has closed considerably: the average rent for the former is $1,377 and $1,401 for the latter, offering by far the best deals for rentals in Manhattan. And in Manhattan as a whole, rents for studios dropped 4.7% from February.