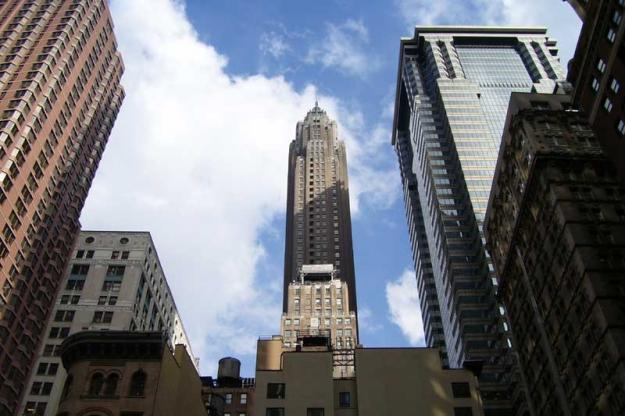 In recent years, converting office towers into luxury apartment buildings has been a popular way of freeing up rental inventory in Manhattan's Financial District, especially since new construction has been so hard to finance. Metro Loft Management has led the way in this respect, and they've built their reputation on transforming business offices into high quality luxury rentals; they presently own nine converted buildings in FiDi. The 66-story high-rise at 70 Pine Street is their latest addition, and once it is finished it will be the tallest residential building in New York and the Western hemisphere.
Constructed in 1932, 70 Pine is the former headquarters of American International Group, and at 950 feet it stands as the fifth-tallest building in New York City. Due to the exquisite architecture - a remarkable limestone, brick, and granite exterior, plus a unique orange-marble lobby - the Landmarks Preservation Committee landmarked this historical Art Deco building in June of 2011. Last winter, Metro Loft acquired 70 Pine for $205 million. Developers hope to have the building on the rental market by the summer of 2013, but the exact number of apartments to be constructed within its one million square feet of space will not be determined until interior demolitions begin.
So far there are two plans in play. One plan has a 300-room hotel on the lower floors with about 700 apartments above, allowing residents to take advantage of hotel services and staff. The other plan has the high-rise as exclusively residential, with about 970 apartments in total. Apartments are expected to range in size from 400 to 1,800 square feet, in the form of studios and one-, two-, three-, and four-bedroom units. 70 Pine also has a light-filled observatory on top floor, which could become a residential common space or a 6,000-square-foot triplex.
With the skyscraper slated to become the tallest residential building in the Western hemisphere (at least until One57 opens on Central Park South) it will replace another Financial District luxury rental building, the innovative 8 Spruce Street, which stands about 75 feet shorter. As Luxury Rentals Manhattan previously reported, penthouses at New York by Gehry are going for as much as $60,000 a month, but more affordable units will be priced similarly to those found at 70 Pine. Although the Financial District is one of New York City's oldest neighborhoods, converting office towers like these was rare until recently. This part of Manhattan is fairly quiet on nights and weekends, making it desirable for those desiring a tranquil downtown residency. With hundreds of new apartments soon to be available at 70 Pine, the Financial District is sure to continue flourishing as a residential neighborhood in New York City.