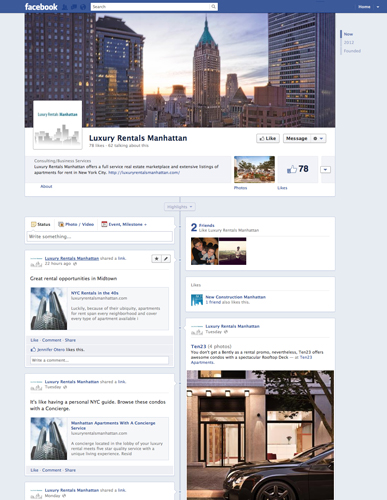 New York City's rental market moves at a rapid place, and to keep up with its ever-changing conditions, the Internet is necessary. Social media websites provide users with platforms to interact with others in the market, and quickly become informed about the latest property news, listings, and transactions. Here at Luxury Rentals Manhattan, we realize that our readers utilize social media regularly, so we have recently launched our very own Facebook page.
Luxury Rentals Manhattan offers a full service real estate marketplace and extensive listings of apartments for rent in New York City, and by simply "liking" our Facebook page, this information can be delivered straight to your news feed. In addition to featured luxury rental listings, our Facebook page streams the latest in New York real estate news, allowing you to never fall behind. We also feature incredible photos of some of Manhattan's most attractive rental apartments, that you can "like," share, or comment on with other users.
Along with obtaining sales and marketing advice, the process of finding a luxury rental can be daunting and time consuming. Social media condenses and alleviates these activities, making it such an important tool in real estate. With the new Luxury Rentals Manhattan Facebook page, streaming anything from information about Upper East Side rental buildings, to the latest news in market trends can be done by simply clicking "like."