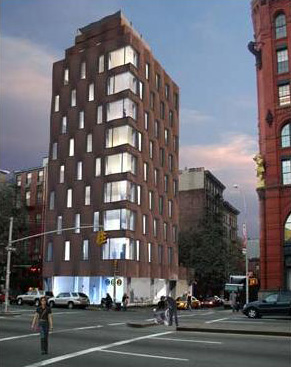 For many Manhattan residents, finding a New York City apartment can seem like a near impossibility, as rents are currently at historic highs. However, several new rental buildings are beginning to surface, with 2,596 new units joining the Manhattan market in 2012. Although vacancy rates are at all-time lows, these new Manhattan rental apartments will surely provide renters with a fresh array of options. This is good news in the long-run too: more inventory means that all that pent-up demand for Manhattan rentals will finally have an outlet. If this trend of new construction and pre-war conversion continues, it will definitely help Manhattan's sky-high rents come down to earth.
Of these new buildings, 116 John Street, a pre-war high-rise which slowly began to open its doors in mid-May, definitely stands out. The former office building is 350,000 square feet, and as of now, 40 of its 418 apartments are being leased, with the rest hitting the market within the next few months. Upon completion, the building will boast a tenants lounge, gym, concierge, valet, and a roof deck, bringing the 1931 Art Deco building up to par with other luxury rentals in New York City. Rents in this building will range from $2,200 to $6,000, with units in the form of studios, one-, and two-bedrooms.
Located on the same street, The Renaissance at 100 John is another Financial District building with new rentals gearing up to hit the market. The 34-story residential tower initially opened fifteen years ago, but in order to keep up with the changing neighborhood, 100 John decided to renovate its entire downtown structure. The lobby, corridors, and amenities spaces have been made over, and as of now, 55 downtown rental apartments have been completely remodeled, and four are currently on the market. Apartments range in price from $2,850 for a studio to upwards of $20,000 for a penthouse.
The Flatiron District's Mulberry House, located at 290 Mulberry Street, is set to hit the market later this summer, offering 8 full-floor three-bedroom apartments along with a triplex penthouse. This rental structure mirrors condominiums in that it offers tenants more space, and this pre-war Manhattan rental provides common amenities like a fully attended lobby, common terrace, and storage units. Apartments for rent are expected to start at $10,000 a month and will be available as soon as interior construction is complete.
Located at 247 East 28th Street, The Grayson brings new updated rentals to Kips Bay, with 125 units that have not been updated since the 1970s. The building was gut-renovated, extracting everything down to the closets, and modern amenities like a roof deck and lounge were installed. Prices will be set between $4,000 and $6,000 a month, and units will be available within the coming months. Another historic building transitioning to the modern rental market is the Windermere West End on Manhattan's Upper West Side. As an existing pre-war, 170 of the units are being renovated, and many of which have available at market-rate prices since May. Apartments range in price from $2,400 to $18,000 a month, and newly implemented common spaces include a pool and sky lounge.