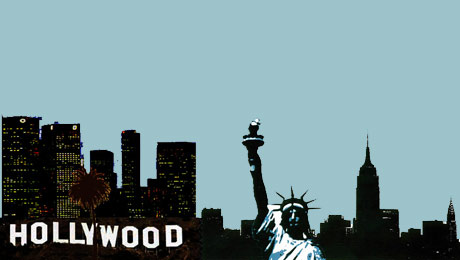 One of the perks to living in New York City, besides the bagels and the halal carts, is that sooner or later, one is bound to run into some famous celebrity out and about in the city. Some lucky New Yorkers have stumbled onto a movie set in Midtown West and met one of the stars of "Ocean's Eleven," while others have been flabbergasted to realize that they have been shopping alongside a "real housewife" in a trendy Manhattan store on Fifth Avenue. But there are some among us who haven't yet seen a star in the city yet. So, if you are a New York City resident who hasn't had a chance celebrity encounter to share with friends yet, we have a suggestion to help you in your star quest.
As it turns out, many of our favorite celebrities are, quite simply, just like us—at least, in the sense that they too are renting apartments in New York City! A celebrity star map created by Rentenna reveals that many of our favorite stars, from fields as varied as movies, television and sports, are choosing to live in Manhattan the "traditional" way—that is, by paying rents! So, instead of staying glued to celebrity spotter sites, why not consider renting an apartment in the same building as your idols? Besides getting a fabulous luxury apartment to live in, the probability that you will get to meet the star(s) of your dreams will substantially increase as well.
Credit must be given where it is due, and our stars do have a penchant for choosing some excellent places to live in New York City. America's sweetheart Meg Ryan, for instance, rents an apartment for $25,000 a month at 40 Mercer in Soho, while funnyman Robin Williams used to rent a fourth-floor condo at the Rushmore in the Upper West Side for $15,000 a month. "Twilight" stars Dakota Fanning and Ashley Greene rent apartments at Nolita and Greenwich Village respectively, with Fanning paying $10,000 for a two-bedroom at 25 Lafayette Street while Greene pays $4,000 for a one-bedroom at 2 Cooper Square.
But it's not just movie stars who are choosing to become tenants instead of owners—television and sports celebrities are getting in on the action too. Basketball star Jeremy Lin is renting a condo at W New York Downtown in the Financial District, while baseball's Derek Jeter lives in style at the Trump World Tower in Midtown East. "Melrose Place" star Kelly Rutherford rents an Upper East Side condo for more than $10,000 a month, while her "Gossip Girl" co-star Chace Crawford rents a luxury penthouse in Wall Street. Regardless of the fields they belong to, all of these celebrities have chosen homes in some of the best buildings and neighborhoods of New York City.
So, if you are looking for an apartment to rent in Manhattan, consider living where your favorite stars live—not only would you be renting a home "certified" by the stars, you'd probably soon have a dossier of celebrity encounter stories to share for a lifetime.