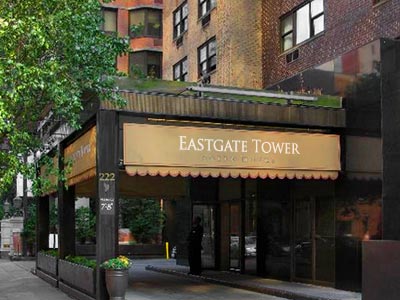 Murray Hill's unique location in Midtown Manhattan has made it one of the more desirable neighborhoods to live in New York City. After all, residents here are near the city's famous hotspots, be it the bright frenzy of Times Square or the refined elegance of Gramercy Park. But Murray Hill itself has its own particular charm, made apparent with the variety of retail and dining options available in the area. As a result, the neighborhood has been attracting Manhattan home hunters by the dozen, a fact that has not been missed by New York's real estate developers. This could therefore be one of the reasons why Manhattan-based real estate investment firm Atlas Capital Group has bought the Eastgate Tower Hotel at 224 East 39th Street, with the intention of converting the 147,000-square-foot property into a 190-unit luxury rental building.
The Real Deal reports that Atlas has bought the hotel from the Procaccianti Group for $69 million, one million more than the amount paid by the Cranston, Rhode Island based family-run Procaccianti business to buy the hotel in 2006. The Eastgate Tower Hotel is located only a few blocks away from the Grand Central Station, which in itself makes the building a very attractive rental listing for anyone wanting to live in the city. Since it is located between Second and Third Avenue on 39th Street, residents here will be close to the slew of restaurants and bars in the locality. The 25-story hotel also boasts of beautiful, spacious rooms and a number of luxury amenities as well, and therefore, one can safely expect these features to be carried on to when the building becomes a luxury rental.
Once its conversion is complete, the Eastgate Tower Hotel seems set to be a good addition to a neighborhood that boasts of several popular luxury rental buildings already, like the Archstone Murray Hill and Paramount Tower. With its convenient transportation options and its proximity to parks, offices and more, the Murray Hill neighborhood has carved out a niche for itself in the Manhattan real estate market, and apartment hunters in the city will now be looking forward to the increased array of rental options available in the neighborhood.