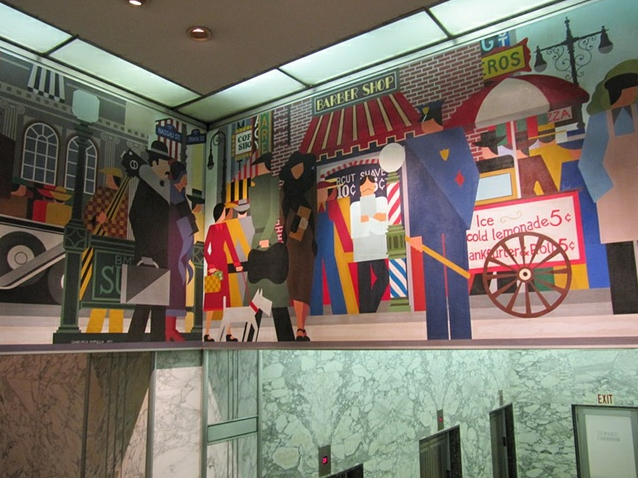 New York is a city of art lovers. Be it in the relaxed spaces of the city's charming art galleries, or even by scouting out the various public installations on the streets, New Yorkers are always on the lookout for their daily dose of art. This could explain why many luxury rental buildings in the city are using some of their space to host and display impressive pieces of artwork, which, besides serving as a conversation starter for their residents, also amps up the glamor quotient of the buildings. Here's a list of three Manhattan buildings that showcase some impressive pieces of art in their premises:
· 1214 Fifth Avenue: This Upper East Side building is already known for being the tallest residential building in the neighborhood, but this glass and stone tower also has something in common with the museums present along its Museum Mile block—it too is home to some beautiful pieces of art! 1214 Fifth Avenue's developers, Related Companies, commissioned renowned painter Derek Reist to create four paintings for them, all of which are now hung in the lobby of the building. From colorful abstracts to cheery Central Park scenes, residents here will certainly be delighted with Reist's creations.
· 777 Sixth Avenue: The art scene in Chelsea is one of the most happening ones in New York City, and 777 Sixth Avenue seems to want to remind its residents of the fact every time they come to the lobby! Because hanging in the lobby is a striking drip painting by artist Mike Bidlo, whose work is an obvious homage to expressionist painter Jackson Pollock. Bidlo himself is an artist famous for being part of the East Village's burgeoning art movement in the '80s, and his Pollock replica is an obvious eye-catcher in this 32-story, LEED-certified luxury rental building.
· Deco Lofts: Giancarlo Impiglia's stunning mural is usually the first thing people notice when they enter the beautiful spaces of the Deco Lofts, located at 99 John Street in the Financial District. Impiglia has drawn inspiration from the building's Lower Manhattan surroundings for his mural entitled "Lower Manhattan Revisited." Impiglia's work in the Art-Deco style is world-renowned, and the residents of Deco Lofts should certainly feel proud on being able to get one of this artist's magnificent pieces of work for their sole viewing pleasure.
Does your building host any striking pieces of art? Let us know in the comments below!