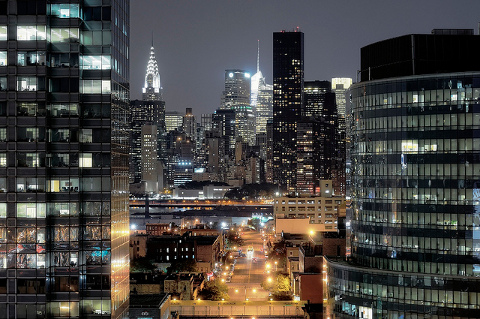 If you were to ask someone about their thoughts on Long Island City in the late 80's and 90's, a good chance is that their response would've mentioned the neighborhood's high concentration of factories, warehouses and its various forms of transportation such as the Queensboro Bridge, which facilitated industrial and economic growth. Since then, Long Island City has received a "facelift." Art galleries, commercial businesses and high-end real estate are now making Long Island City their new stomping grounds. LIC is a conglomerate of the youthful, cool and hip spirit of Williamsburg intertwined with the sophistication of Manhattan.
In the 1970's Long Island City transitioned from being one of New York City's primary industrial areas to developing itself as a burgeoning art attraction. The launch of P.S.1 Contemporary Art Center in the 70's enchanted the likes of artists, musicians and writers who wanted to live in a culturally invigorating neighborhood, but wanted to avoid Manhattan's smaller living spaces and high rent.
Long Island City's residential community has now expanded from affordable living for blue-collar families to hi-rise condominiums. One of LIC 's latest premier real estate developments is 27th on 27th. This opulent condominium building presents stellar views of Manhattan, full service amenities such as doorman services, sun deck, gym and a 28th-floor observation deck. Located in the thriving Court's Square area, 27th on 27th places residents in an energetic neighborhood similar to the electrifying pace of the city. Prospective Long Island City residents have a vast selection of luxury apartment rentals at their disposal. As this neighborhood continually develops, old industrial warehouses of LIC'S past are now converting into contemporary and innovative loft spaces. New construction plans for buildings such as One Murray Park offers full service amenities and units with terraces. 44TH Drive and 11TH Street is set for completion in 2014 and will have 100 units, The Vista which sold 8 of its 48 units within 8 minutes and Ling LIC, which is set to begin leasing by spring. Despite these recent advancements, Long Island City maintains its traditional edgy and culturally diverse essence.
The growth of LIC is not limited to only high end, luxury living. Businesses are moving forward and progressing along with the neighborhood. Big businesses such as Jet Blue recently established their 200,000-square-foot headquarters there. The City University of New York's latest investment includes $155 Million for a new setting for their law school. While these new commercial buildings promote the area's progression, old businesses are keeping up with LIC's new identity. Bars now have happy hours for their new professional patrons. It has been reported that a music venue, beer hall and a posh supermarket is in the works is in the works.
Long Island City's identity has progressed significantly from what it once was. Now, this neighborhood rivals areas like East Village and Williamsburg in culture, diversity and the arts. Unlike those areas, LIC offers luxury rentals at a fragment of the cost. Now, LIC is the home to business professionals and artists alike.