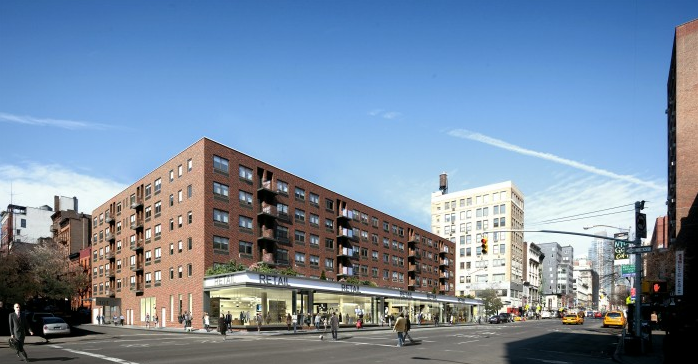 What's in a name? Well, in the case of the building formerly known as The Code, a change in name seems to have also caused a change in the building's proposed architecture as well. This luxury rental building, which is being developed by Stonehenge, is now known by its Chelsea address, 101 West 15th Street, and the latest renderings for the site showcase the building with practically no change to its exterior design—the futuristic additions that were to be placed on top of the building are now nowhere to be seen.
But then again, it is the interiors of a building that will ultimately count in the real estate world—and the same is true of 101 West 15th Street as well. The building, which was once a part of St. Vincent's Hospital, will contain 160 luxury rental apartments in studio and one-bedroom sizes. 101 West 15th Street will also have a number of building amenities, which include a gym, an outdoor theater and common indoor and outdoor space. The site will also have 13,000 square feet of ground floor retail, which is sure to make this building a hot draw in the Chelsea locality.
Given its location and its smaller-sized apartments, 101 West 15th Street seems to be setting itself up as the perfect residence for the young, jet-setting crowds that flock to Chelsea on a daily basis. The neighborhood is, after all, one of the most desirable neighborhoods in New York City, containing everything from the best fashion boutiques to the uber-cool locales of the High Line Park. As a result, regardless of the name, be it the erstwhile Code, or the newer (and simpler) 101 West 15th Street, this luxury rental seems set to become one of Manhattan's most popular addresses.