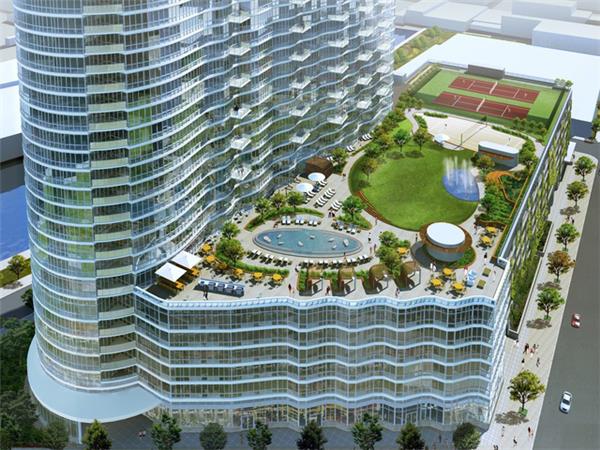 There are building amenities—and then there are luxury building amenities.
Falling into the latter category are the services being provided at 45-45 Center Boulevard in Long Island City, whose list of amenities contains a lot more than the usual doorman and concierge service. Perhaps the most interesting of these features is the 5000 square-foot outdoor space, which contains, among other things, a real sand beach volleyball court. That's right—if you live at 45-45 Center Boulevard, you will no longer need to go to the beach for some fun games in the sun.
However, the volleyball court is just one of the many perks being offered at this 41-story building—the outdoor amenity space also includes two tennis courts, a dog run, a reflecting pool and a sun deck. It's a delectable mix of amenities, and they are certainly going to be welcome as summer roars into New York City. Based on the renderings, the outdoor amenity space does look like a cool place to hang out—it's like having your own private beachfront in the middle of the city.
The apartments at 45-45 Center Boulevard come in studio, one-, two- and three-bedroom sizes, with rents starting at $2,155 per month and going up to $5,580 per month. The location of this building is especially ideal—besides being close to all of the restaurants, galleries and bars that have made Long Island City so popular today, residents here will be able to enjoy some stunning views of both the Manhattan skyline and the East River.
Interested in renting a home at 45-45 Center Boulevard? You can learn more about this building by clicking here. For more information, or if you want to schedule a showing, contact us today and we'll get back to you at the earliest. 45-45 Center Boulevard promises to be a great residence to have during the summer—so plan your move today!