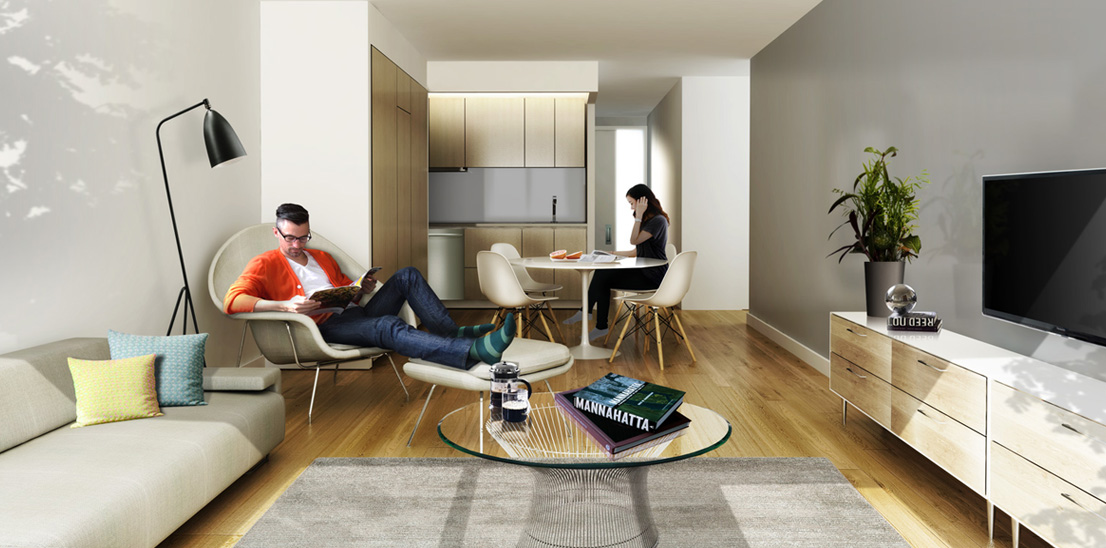 In a city that seems to be teeming with singles, there is some contradiction in the fact that it is often hard to find accommodation in New York City that's specifically catered to unmarried folk, or even couples. These New Yorkers aren't looking for a towering penthouse or a sprawling three-bedroom residence—they're just looking for a compact, cozy space in the city that they can call home. However, such apartments are often hard to find, which is why 101 West 15th Street's arrival in the rental market is probably going to be seen as a godsend by many of the city's singles and couples.
101 West 15th Street once used to house staff from the now-defunct St. Vincent's Hospital, but this Chelsea building has since been renovated and restored by Stonehenge to become a luxury residential building offering studio and one-bedroom apartments for rent. The building has a total of 160 residences, of which 65 of the units have already been leased—this is not surprising when you consider the tight rental market in Manhattan right now. (Given 101 West 15th Street's trendy Chelsea location, we're surprised that more of the units haven't been rented yet!)
While 101 West 15th Street's collection of smaller-sized apartments should be enough to attract singles and couples to this Chelsea address, Stonehenge has also added an assortment of great amenities that should make this building all the more appealing to this jet-set crowd. While the fitness center and the beautiful lobby are particularly noteworthy, we were more impressed with the communal spaces (located both indoors and outdoors), which will be used to host all sorts of events, which include pet fashion shows, yoga sessions and mixology classes.
With respect to rents, the studio apartments at 101 West 15th Street start at $3,500 per month, while the one-bedroom apartments start at $4,500 per month. With a design aesthetic that's reflective of contemporary style, the homes here are made for modern luxury living, and in a city that's notoriously short of inventory, apartment hunters would be wise to snap up an apartment here while they still have a chance! Need more convincing to move into 101 West 15th Street? Head to the building's official site, where they have 101 reasons as to why this address is right for you!