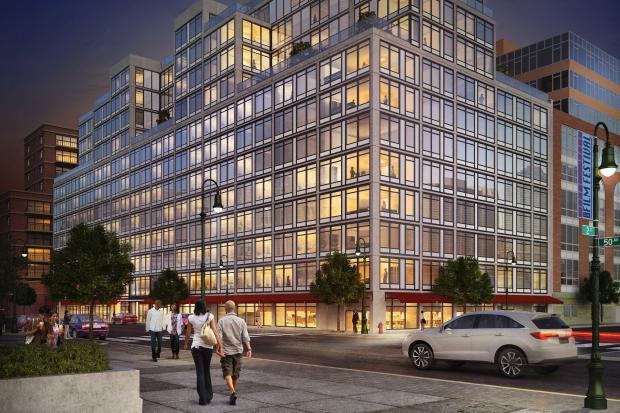 In recent years, we've seen the major overhaul of the Long Island City waterfront. Luxury buildings now take advantage of the neighborhood's prime location, one of them being the new Gantry Park Landing at 50-01 2nd Street. The up-and-coming neighborhood has become a popular destination for commuters, as it's one short stop away from Midtown Manhattan on the 7 train.
Gantry Park Landing at 50-01 2nd Street is one block from Long Island City's East River waterfront and Gantry Plaza State Park (hence the name). Luxury rentals will include studio, one-, two- and three-bedroom apartments ranging from $2,100 to $4,800 per month. The design of 50-01 2nd Street combines the style of the 21st Century with industrial elements, creating some truly fantastic looking apartments.
Amenities at Gantry Park Landing will include all the luxury amenities one might expect, and perhaps even some unexpected ones. The marketing team at 50-01 2nd Street is referring to the "private playground of indoor and outdoor amenities" as having access to "The Gantry Club." That "club" includes a fitness center and yoga studio, gaming lounge with billiards and table-tennis and of course a club room for pampered relaxation. The aforementioned unexpected amenities include a pet spa and outdoor shower on the rooftop sunset terrace.
And if all of the above isn't enough, Curbed recently reported that the marketers at Gantry Park Landing parked a food truck around the corner from the 50-01 2nd Street luxury apartment building and offered interested apartment seekers free snacks and coffee. Prime location, fantastically crafted apartments, luxury amenities and free snacks. What's not to like about this luxury rental building?