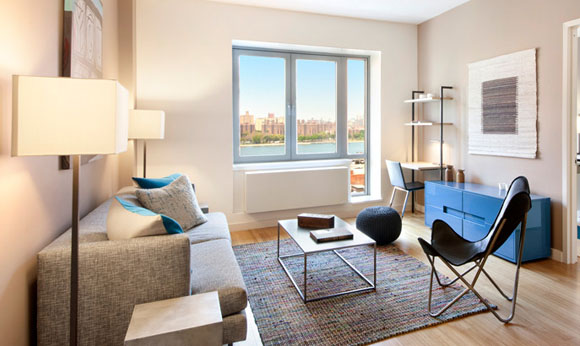 Well, renters of New York City, we have some good news and some bad news. The Williamsburg at 373 Wythe Avenue in Williamsburg (of course) has finally began leasing. The 11-story Karl Fischer-designed building has 88-units of studios, one- and two-bedroom apartments. The Williamsburg is located in one of the most desirable neighborhoods in all of the city, so it's expected to reach occupancy extremely quickly.
And that's the bad news folks. As leasing was expected to begin in May, there's already a 700-person waitlist for the 88 units according to The Real Deal. The luxury rental is expected to near capacity in less than two months, so hopefully you had a head start and got your name in ink on that waiting list. It's still worth a shot though.
The luxury apartments for rent at 373 Wythe Avenue range from $2,290 to $3,950 a month. Let's face it; citywide low rental inventory and a prime Williamsburg location alone point to this place filling up quickly, but being Silver LEED certified certainly adds to this luxury apartment building's appeal.
Luxury amenities at the Williamsburg will include a part-time doorman, on-site parking and a shared courtyard. First-floor units will also have private terraces. The apartments at 373 Wythe Avenue will be finished with bamboo floors, insulated windows and stainless steel Kenmore appliances. Within walking distance to the East River, most of these apartments will feature river and city views.
If you weren't lucky enough get on the list for the Williamsburg, don't worry. Contact us today, and we'll fill you in on all of the great deals in Williamsburg.