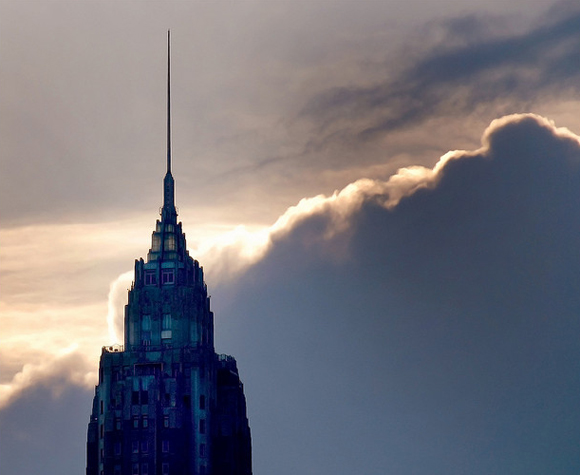 Though office-to-residential conversions have certainly been popular in recent years, it's not every day that a landmarked skyscraper is turned into luxury apartments. Rumors of the vacant 70 Pine Street floated for years, but the details have finally been released.
In 1932, the Art Deco skyscraper 70 Pine Street rose 66 stories into the Financial District sky during a period of rapid skyscraper development. At the time of its completion, it was the third tallest building in the world, only falling short to the Empire State building and the Chrysler Building, and was the tallest building Downtown until the World Trade Center was completed in the 1970's. In the modern era, it served as the headquarters for AIG, and when the company sold during their 2008 struggles, the City prepared for the one of the largest office-to-apartment conversions the city has ever seen.
According to a report by the New York Post, the $550 million renovation will include 644 luxury rental apartments. The cost of those apartments will use the $66 per square foot net price of New York by Gehry as a starting point, according to Adam R. Rose, co-president of Rose Associates.
According to residential market expert Jonathan Miller cited by the Post, 70 Pine Street's "central location and amenities could enable them to achieve at or near-record pricing for the neighborhood as evidenced by the success of 8 Spruce St."
Of the 644 apartments for rent at 70 Pine Street, 100 of them will come with terraces, and residents will have access to an ultra high-end spa/fitness/wellness club operated by La Palestra that will span two levels of the building.
One of, it not Rose's central focus, is on luring a family-friendly, star-quality restaurant in up to 15,500 square feet of 70 Pine's 35,000 square feet of retail space. The Financial District has a plethora of steakhouses, but little to offer in terms of classic American restaurants. Next-door Battery Park City has options, but Rose sees West Street as a "psychological barrier for downtown residents."
Regardless, for 70 Pine Street, it makes sense to have all-around high standards.