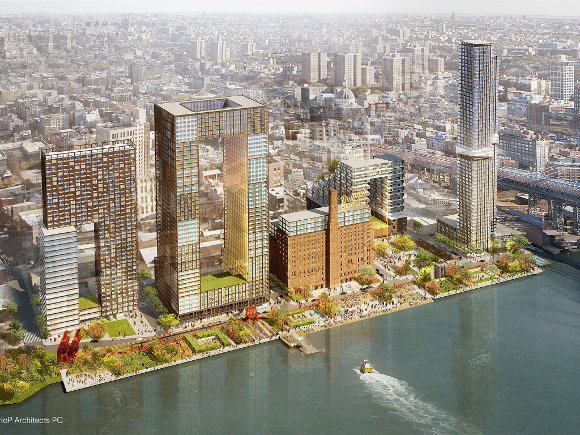 On Monday, Two Trees' conversion plans for the Domino Sugar Refinery in Williamsburg received approval from Community Board One's Land Use Committee in Brooklyn. Two Trees will propose the plan to the full community board in the near future.
According to Brownstoner, the board appreciated the fact that Two Trees promises to provide 660 units of affordable housing, which will meet various ranges of income. The current plan would place all of the affordable apartments in one building, though the committee suggested spreading them out throughout multiple buildings of the development.
Two Trees purchased the development site at the Domino Sugar Refinery last summer for $185 million. Prior to the purchase, a plan for 2,200 apartments received approval, despite widespread objection. Two Trees decided to enlist SHoP architects (responsible for designing the Barclays Center, Essex Crossing and 626 First Avenue) to overhaul the entire design.
While the number of apartments coming to the Williamsburg waterfront remains 2,200, the design is widely considered a massive upgrade from the one previously approved.
SHoP's design includes a 60% increase in open space, which in turn means taller, sleeker buildings. While height isn't always viewed favorably in neighborhoods outside of Midtown or the Financial District, the community certainly welcomes it provided that more open space comes with it.
Arguably the most unique of the planned buildings is comprised of two towers set 120 feet apart and joined at the top and bottom, creating a three-dimensional zero. To the north of that building is another hollow tower, though it features a much smaller center opening. To the south of the site are the tallest of the buildings. Rising 60 stories, the two towers will be joined by a skybridge.
Not everyone is content with this proposal, however. One group, with the help of Holm Architecture Office, proposed renderings that renovates the Domino buildings into a cultural and art space, as well as providing some affordable housing.
The Director of Special Projects at Two Trees told Curbed, "We like rubber ducks as much as anyone, but this is not a genuine alternative and we are not looking for proposals for our property," said David Lombino.