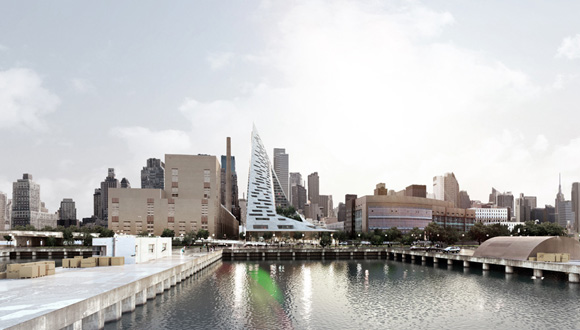 There's something about 57th Street that has turned it into the most popular destination for new development. From the supertall luxury condo buildings along the south of Central Park to the massive 606 West 57th Street, everyone wants a piece of 57th Street. Joining in on the fray is 625 West 57th Street, which will bring over 700 new rental apartments to Hell's Kitchen.
Developed by the Durst Organization, 625 West 57th Street will house 711 units between 11th and 12th Avenues. The building will take part in the 80/20 housing program, meaning 80 percent of the residences will be market rate, while 20 percent will be rented as affordable apartments.
The Bjarke Ingels Group-designed tower has received overwhelmingly positive reviews for their design. Marketed as a hybrid between the traditional Manhattan high-rise and the European perimeter block, the glass pyramid rises 467 feet in the northeast corner and descends towards the remaining three corners, allowing for Hudson River views from the central courtyard.
Nearby luxury rental building the Helena was concerned about the loss of views, but the pyramidic design of 625 West 57th Street allows the Helena to maintain its views of the Hudson.
Though there's no news on the pricing for apartments at 625 West 57th Street just yet, the retail section of the building is now on the market. Construction on 625 West 57th Street is expected to be completed in January of 2016.
While the supertalls south of Central Park appear to be getting most of the attention, the stretch of 57th Street closest to the Hudson could bring an incredible 2000 new apartments to the neighborhood, with nearly 1,200 being in nearby 606 West 57th Street.
W57 - West 57th Residential Building from BIG on Vimeo.