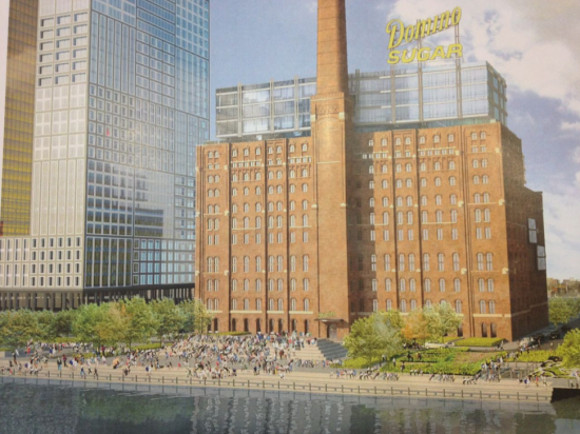 On Tuesday, the Landmarks Preservation Commission reviewed Two Trees' plans for the Domino Sugar Refinery, and now it's back to the drawing board for the Williamsburg site after the plan received mixed reviews.
Some members of the Landmarks Commission criticized both the height and the addition of glass to the roof of the historic building the Brooklyn Eagle reported. Of the Domino site, the actually refinery is the only one which must receive approval from the Landmarks Commission.
Designed by Beyer Blinder Belle, the proposal includes a four-story glass addition to the roof of the factory, while the iconic yellow "Domino Sugar" sign would be moved to sit atop it. In 2008, plans for the property did receive approval, though they did not include the glass addition. Two Trees purchased the Domino Refinery site last year for $185 million and opted to toss the previously approved plans and start from scratch.
The Landmarks Preservation Commission did applaud Two Trees' plan to bring office space to the building, making it a hub for tech companies.
Aside from the office space at the refinery, Two Trees intends on bringing some 2,200 apartments to the Williamsburg waterfront, 600 of which will be affordable. While the refinery will be restored, the architecture of the new buildings will be much more modern. It appears as if the unapproved plans for the refinery were an attempt to merge the old, industrial style with the new, contemporary design. The current plans are widely considered an upgrade of the previously approved plans.