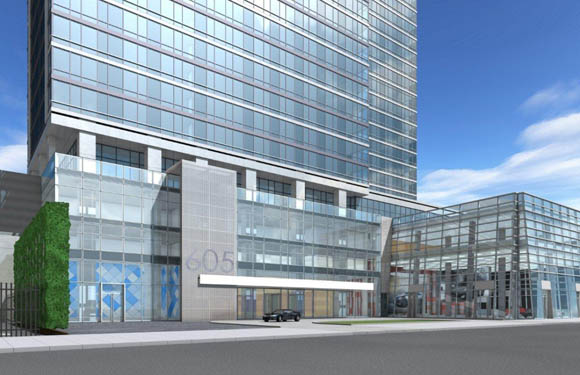 Rendering courtesy of Monian Group
Huge news for Midtown West—literally. Another rental project will be rising in the neighborhood, and this one is enormous. Developed by Monian, the long-stalled residential project at 605 West 42nd Street is making strides towards completion.
The newest renderings, spotted by NY YIMBY, show a massive 60-story tower with a simple, blue-glass facade rising into the Midtown West skyline. And inside 605 West 42nd Street will be a near-record 1,174 apartments. The only project expected to have more apartments in a single building is 606 West 57th Street, which will house 1,189 apartments.
While 60 stories is nothing out of the ordinary for New York, the overall size of 605 West 42nd certainly stands out. The new under-construction building is adjacent from the Silver Towers luxury twin residential buildings, and it appears as if 605 West 42nd Street will completely block out the northern views from those neighboring apartments.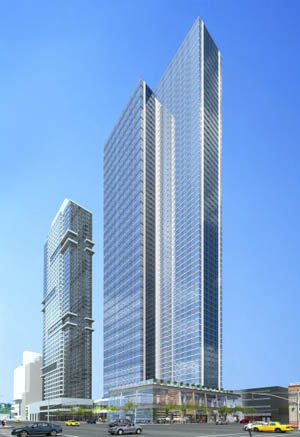 Formerly branded as the Atelier II, Monian dropped the name and opted to simply refer to the building by its address. Monian's original Atelier is a luxury condo building located at 636 West 42nd Street next to the company's new apartment building.
The base of 605 West 42nd Street will be comprised of retail space, and the building will also include on-site parking. No word yet on the building amenities, but the neighborhood itself has seen a recent increase in local amenities. Located just a few blocks uptown is Gotham West Market, a premier food and retail market, and 605 West 42nd is a quick walk to the Hudson River Greenway.
The construction 605 West 42nd Street has begun, and is expected to be completed in the third quarter of 2015.