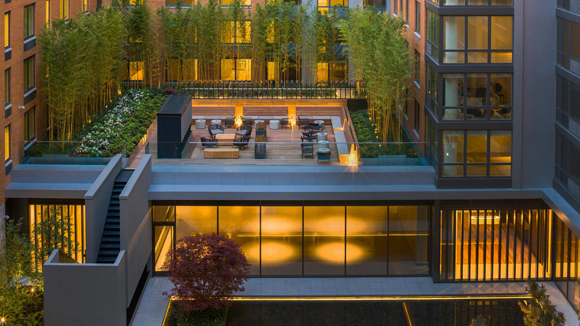 In 2013, several new high-demand buildings hit the market and leased to capacity at an extreme rate. If you missed out, or just weren't looking to move in 2013, don't worry; we know what rental buildings will be opening in 2014. From Downtown, to Midtown, to Uptown, here are some high-demand apartments that will be brand new for 2014.
The Lara: 113 Nassau Street
The Lara is a mixed-use building offering brand new luxury rentals in the Financial District. Located at 113 Nassau Street, the Lara features the Nassau Club—a luxury amenity club with access to a rooftop deck with bar, indoor lounge and library, state-of-the-art fitness center and a game/media room with Apple TV.
200 East 39th Street
200 East 39th Street is an upcoming rental apartment development on the corner of 39th Street and 3rd Avenue. The building will offer studio apartments, one-bedrooms and two-bedrooms. Located in Murray Hill, 200 East 39th Street is conveniently located in one of the most popular, yet affordable Manhattan neighborhoods. The 18-story 200 East 39th Street is expected to open in late 2014, possibly early 2015.
Gotham West: 550 West 45th Street
The Gotham West mega-project recently kicked things off with the opening of Gotham West Market, but we're really looking forward to the rest of the construction. Located at 550 West 45th Street in Hell's Kitchen, Gotham West will soon be home to some 1,238 apartments spread across four buildings. The first apartments will be available in 2014. Studio apartments at Gotham West start at $2,700 per month, and the truly enormous three-bedrooms top out at $15,000 per month. Aside from having the incredible Gotham West Market in your building's base, residents of Gotham West will have access to top notch luxury amenities.

160 West 62nd Street
Located in the Upper West Side near Lincoln Square, 160 West 62nd Street is a 54-story rental tower that will have 339 apartments for rent. Rentals at 160 West 62nd Street will be priced between $5000 and $10,000 per month. Luxury amenities at 160 West 62nd Street will include a parking garage, lounge, fitness center and a lap pool. While 54 stories is nothing out of the ordinary for Manhattan, it is certainly one of the tallest buildings in the Upper West Side.