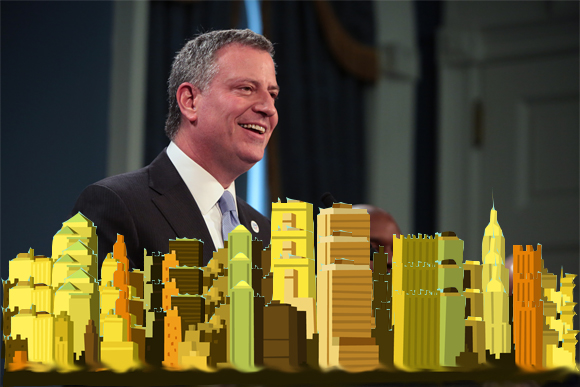 Mayor de Blasio has so far stayed in consistency with his plan to create more affordable housing here in NYC. One method of making NYC a more affordable city would be pursuing a renters' freeze of regulated rents. The Rent Guidelines Board, which is comprised of nine people, had five seats on this board that were recently up for re-appointment or new appointments in March. De Blasio had finally filled these five of the nine seats. The other four seats left for re/new-appointment will be filled in December 2014.
The Appointments are:
Sarah Williams Willard - Owners' Representative
Current Senior Project Manager at Hudson Companies. Willard is responsible for the management of company functions on Roosevelt Island.
Cecilia Joza - Public Member
Presently, the Housing Counseling Program Director at Mutual Housing Association of New York. This company is a not-for-profit, which owns and manages over 1,200 affordable rental apartments in NYC.
Steven Flax - Public Member
Holds the position of Vice President of M&T Bank. Flax manages community development lending.
Sheila Garcia - Tenant Representative
The newest Tenant Rep, also acts as a community organizer at CASA New Settlement. Operating mixed-income housing, as a not-for-profit, which also acts a community-service organization in the Bronx.
Harvey Epstein - Re-appointed Tenant Representative
Epstein is so far the only re-appointment made on the board by the new mayor. Besides being a solid member of the RGB he is also a project director of the Community Development Project at the Urban Justice Center.
Reported by Crain's New York Business, a Mayor's spokesperson was quoted saying that de Blasio was "seeking balanced candidates who understand the needs of low- and moderate-income tenants."
De Blasio has strongly supported a renters' freeze during his campaign. If he succeeds, he will also be making RGB history with their first ever rental freeze in NYC since their creation in 1969.
Opposition in true NYC style is plentiful. Landlords do not want to pay 10% more in real estate taxes without a renters' percentage increase. Vice President of the pro-landlord Rent Stabilization Association is ardently wishing that de Blasio forgo's his support of the freeze entirely.
The final vote will be in June regarding the annual renters' percentage increase or freeze.