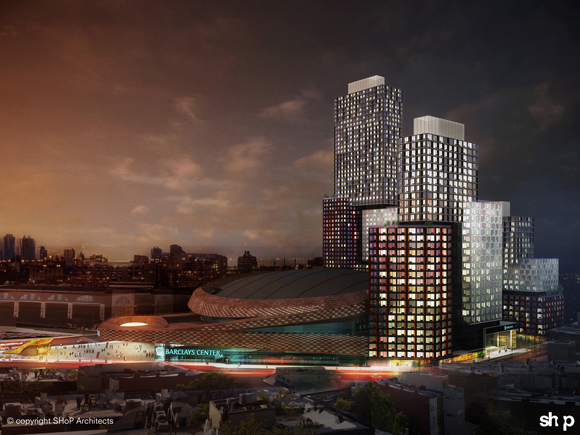 After years and years of delays, Forest City Ratner has agreed to accelerate the building of affordable housing at its Atlantic Yards development. The development was announced on December 11, 2003 and has since weathered lawsuits, multiple architects, and a recession. Now, after negotiations with the de Blasio administration, state officials, and community groups, the pace will hasten.
Atlantic Yards is one of the largest construction projects New York City has seen in recent history, though not a single residential component has been completed yet. The Barclays Center, the multi-purpose indoor arena which anchors the project, is the only facet of the development that has been completed, having opened in 2012.
While the $4 billion project, located at the convergence of Prospect Heights, Park Slope, Downtown Brooklyn, Boerum Hill, and Fort Greene, will eventually be home to a combination of mixed-use commercial and residential development buildings, the updated timeline will ensure that Forest City Ratner deliver 2,500 affordable apartments to the Brooklyn project by 2025, 10 years ahead of the previous schedule.
"This agreement is a win for the state and most importantly Brooklyn residents who will finally begin to see affordable buildings being constructed in their neighborhoods," said Governor Andrew M. Cuomo on Thursday, the New York Times reports.
Forest City Ratner has been under constant criticism over the last decade for failing to follow through on its promises with no repercussions. With this new deal, failing to meet the deadline would result in a $5 million fine for the developer.
The coalition of negotiators also required that Forest City Ratner make its next two residential buildings, which total 600 units, entirely affordable. The units will be divided between income brackets, with low-income families of four that make $48,000 or less, moderate-income families earning $88,000 per year, and middle-income families earning up to $104,000 a year.
The only residential building currently under construction at Atlantic Yards is B2 BKLYN, a 32-story modular tower that will house 363 apartments, 181 of which will be affordable. Though the modular process was meant to expedite the building process, it has been disappointingly slow. B2 is expected to complete construction late 2015.